Billed as "part gig, part play, part apocalypse", Songs For The End Of The World provides an arresting and thought provoking evening of theatre. In New Albion - a near-future dystopia of suffering and exploitation – New Global Inc have created an idyllic walled safe haven known as "Ashley Coombe", where people can live without fear of foreigners or militant 'free radicals'.
Here Mrs Worthings preaches her new testament (fundamentally a celebration of family values, xenophobia and hard-work), which uncomfortably echoes the rhetoric of current Presidents and Brexiteers. Betty craves a revolution and Arnold Patch wants his life, and his garden, back.
Our hero Jim Walters finds himself trapped orbiting a post-apocalypse Earth – a scenario which echoes that of sci-fi classics such as Philip K Dick's novel Dr Bloodmoney, Or How We Got Along After The Bomb and David Bowie's seminal work Space Oddity.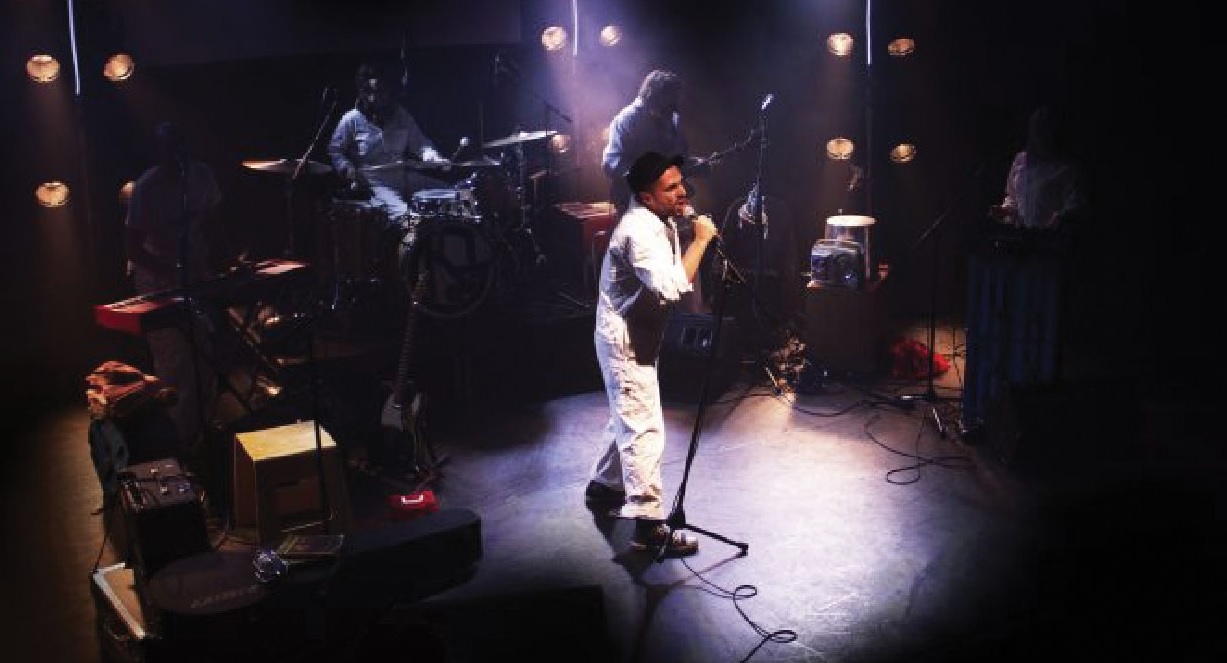 Facing an uncertain future, Walters shares his songs for the end of the world with the rest of the universe. These songs (written by Dom Coyote and the Bloodmoneys) are energetically performed by the five-strong multi-talented cast who change instruments, costumes and characters with speed and panache. The Everyman's vibrant acoustic is a little at odds with the experience of sitting passively watching the show, this feels like a show that you should dance to and with. However, Coyote's slower numbers are beautifully realised, with rich harmonies and layered accompaniment.
Joshua Carr's lighting design is simple but effective eking out every emotion and sculpting the space and performers. The cast are all accomplished musicians (Everyman regulars will recognise Coyote from Kneehigh's recent production of The Tin Drum) but Amanda Dal stands out. Dal drives the show's relentless pace from behind her drum kit, bringing New Albion down with her apocalyptic drum solo.
There are gems amongst the debris of New Albion but the music-less moments don't pack quite the same punch, feeling less developed and more laboured when compared to the songs. This is evocative 'gig-theatre' a show about loss and belonging that ultimately celebrates hope.
Reviewer: Clare Chandler
Reviewed: 1st November 2017
North West End Rating: ★★★