Following the success of Dead Dog In A Suitcase the magically mischievous Kneehigh return to The Everyman with their unique interpretation of Günter Grass's seminal satire on Nazism The Tin Drum.
Grass's story of Oskar, who is born fully aware into a world gone wrong and decides to never grow old in protest, becomes a twisted and anarchic theatrical experience woven together by Charles Hazlewood's distorted electro music box score. This is not an escapist musical, as its themes resonate with the modern world of rising extremism, hypocrisy and conformity (all of which Oskar protests by beating his tin drum) but there is a strong sense of hope throughout.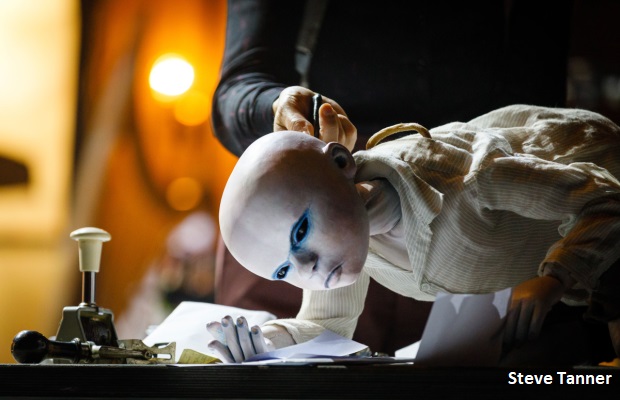 The cast blend and harmonise beautifully eking every emotional nuance out of the score, as Dom Coyote's plaintive cries soar above evoking the horrors unfolding on and off stage. As ever with Kneehigh's work there is a real warmth to the show and a liberal dose of humour to lighten even the darkest moments. The show opens underscored by the strains of a scratchy gramophone encouraging nostalgia as couples dance round Naomi Dawson's increasingly dilapidated set, beautifully lit by Malcolm Rippeth.
The Tin Drum features all the visual inventiveness and ingenuity that Kneehigh are known for; puppets leap from burning buildings, chains of paper people represent the growing support at far-right rallies and later hang lifelessly from washing lines, the sea consumes the stage, adults become babies in the blink of an eye.
At the heart of the show Oskar's puppet form is brought to life by the talented cast, believably human but also removed from the world that he struggles to understand. The use of both amplified and unamplified voices takes a moment to adjust to and isn't always as clear as Hazelwood intends but does provide an interesting textural quality to the piece.
This is a show where you are more likely to leave humming the visual effects (to paraphrase Stephen Sondheim) than Hazelwood's somewhat repetitive score but don't let the lack of a catchy refrain prevent you from enjoying this show. If anything, this limitation allows the other elements - such as Etta Murfitt's choreography – the space they need to shine.
Once again Kneehigh under the guidance of Mike Shepard have created a moving and thought-provoking piece of theatre that brings light and life to the theatre.
Reviewer: Clare Chandler
Reviewed: 3rd October 2017
North West End Rating: ★★★★