As we enter San Francisco (the main theatre space) with flowers literally in our hair, we engage freely with cast members before this 'in-the-round' clash of society and counter-culture commences its exchange of song, dance, and music to resonate the spirit of 1967's 'Summer of Love'.
Artists such as Janis Joplin and The Doors provide some irony as we 'turn on, tune in, and drop out', with a deserved nod to the 50th anniversary of Sgt Pepper, until a white rabbit emerges from the haze to the accompaniment of Jefferson Airplane before being 'trumped' as modern politics challenges briefly the idealism that we are looking to celebrate, with hope finally restored by Harrison's timely 'Who Loves The Sun'.
An enthusiastic and talented cast matched disciplined choreography with improvised interaction with the audience in this feel-good show. It is said that if you can remember the 1960's you weren't really there – I can't put my finger on what it was about this show that had us all buzzing afterwards: we didn't inhale but we were most definitely there.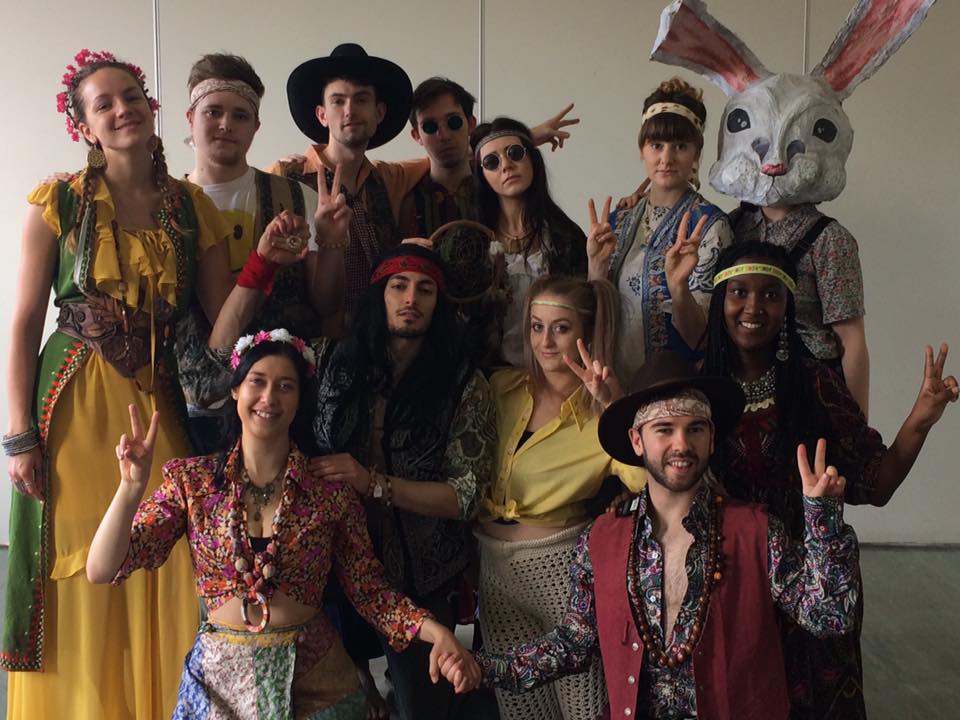 Daydream Believers is part of the Physical Fest which is running from 26th May to 3rd June 2017 and which was launched tonight by its Artistic Director, Elinor Randle. Further performances are scheduled for 27th and 30th May, and 2nd and 3rd June at 6pm and 7pm. A single performance on 1st June is at 6.30pm. Further details www.physicalfest.com
Now in its fourteenth year, due to the ongoing refurbishment of Unity Theatre, the venue for Daydream Believers is Hope Street Theatre (22 Hope Street L1 9BY), a 100 seat multi-configuration space available to hire all year. Its aim is to support an ever-burgeoning theatre scene looking for even more high quality performance space in Liverpool City Centre, and is being developed and led by Sam Donovan who co-founded the prestigious Papatango New Writing Prize.
CEO and Artistic Director of Unity Theatre, Matthew Linley, has confirmed tonight that works have now been completed so we can look forward to future productions commencing shortly, further details www.unitytheatreliverpool.co.uk/
Based in Liverpool, Tmesis Theatre has created and developed high quality, and accessible physical theatre since 2003, receiving critical acclaim for their unique style of movement-based theatre, as well as their development of physical theatre in the north through their annual international festival, Physical Fest. Further details http://tmesistheatre.com/
Reviewer: Mark Davoren
Date: 26th May 2017
North West End Rating: ★★★★