Witty, heart warming and thought provoking. David Walliams' book was brought to life on stage tonight in front of a very excited audience.
Friday night again and Ben is dreading it as it means one thing, staying at Granny's. Ben thinks this is the most boring thing in the world, that and the fact everything they eat contains cabbage. Boring, that is, until he discovers a secret that changes everything and opens up a whole new world at Granny's.
This show is so well put together, a little slow moving to begin with, you do wonder if it's going anywhere but once it gets going I found myself fully immersed,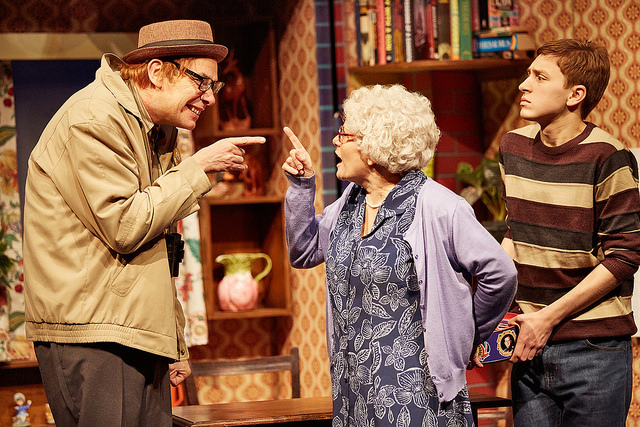 The story is told by 11 year old grandson, Ben, played by Ashley Cousins. Cousins is fantastic as Ben, capturing the 11 year olds movements and traits perfectly. A tough job for someone who is 8-9 years older than they're playing to get right but he did. Totally believable and extremely entertaining, especially when paired with "Gangsta Granny." Granny is played by Gilly Tompkins and is perfect, wanting to keep her grandson warm with extra jumpers and well fed - cabbage soup, cabbage cake, cabbage everything. The relationship Tomkins and Cousins have on stage is an absolute joy to witness.
The rest of the cast are wonderful, playing a whole host of characters between them. Davesh Kishore was fantastic as shop keeper Raj then as dancer Flavio, the way he flipped between characters was astounding. I thoroughly enjoyed Ben Martin as Mr (Nosey) Parker, local neighbourhood watch guy. Hilarious character, fully immersing himself into the character and had the audience in stitches.
The set at first looked pretty basic and minimal but it was fantastic. Spinning round with the help of cast, lots of parts opening up or pulling out, creating numerous scenes and places, extremely creative and very well done.
Lighting played a huge part in this show and was executed perfectly - a huge well done to Jason Taylor on such wonderful lighting designs.
The story follows some great adventures but the heart of the story really stood out. Ben found his Granny boring at first until he found out more about her. This story reminds us that older people may seem boring to you but they've done a lot and had lives too, take time to speak to them find out more about them, you may get a surprise.
David Walliams has done a fantastic job with this wonderful story and it was brought to life with such warmth, joy and love on stage, much to the delight of the hundreds of children in the theatre tonight, me being right in the centre loving it just as much, if not a little more
Reviewer: Damian Riverol
Reviewed: 19th April 2017
North West End Rating: ★★★★★