The popularity of Elvis Presley never diminishes, daily you will hear a record of his on the radio and up and down the country there are Elvis tribute artists competing for titles and entertaining packed audiences in theatres every week, all this and its over 42 years since his death!
Tonight, on a freezing cold evening in New Brighton, temperatures were rising as Michael King took to the stage alongside his three piece showband and two female vocalists. As the band consists of just two guitarists and a drummer, lack of keyboards necessitate the addition of backing tapes to recreate an authentic sound. King has a good connection with the audience and smiles throughout the whole show, exchanging banter both with audience and his band giving him an immediate likeability.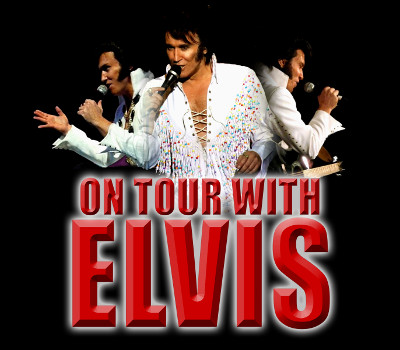 On Tour With Elvis states it is 'The only show endorsed by the Official European Elvis Championships', I checked ..... Michael King is the producer of the contest so hardly surprising! However King is not short of awards and is credited as the only UK Elvis performer to have received the 'Las Vegas Elvis Icon Award' for his performances there, with Elvis's very own Jordanaires.
The stage is set simply with two curtain drops depicting silhouettes of Elvis and a central screen showing an assortment of Elvis album covers. Strutting onto the stage dressed in a two piece outfit known as the Black Cossack (minus the usual karate belt and worn with a different style tied belt) King launched into an assortment 1950's hits including one possibly not so well known 'My Baby Left Me' followed by the more popular 'All Shook Up' and 'Blue Suede Shoes'. King encouraged the audience to dance, sing-a-long and film the show however it appears being given permission to film there were less than the usual sneaky phones out! I only noticed a couple of dancers at the rear of the theatre but everyone was in fine voice joining in with 'It's Now Or Never'. King sounded very like Elvis but I did feel there were also instances where he didn't, however it did not spoil the enjoyment of the show. Singing 'American Trilogy' one of the guitarists added backing vocals and occasionally overpowered King during it.
With a costume change into a white jumpsuit featuring an American Eagle worn by Elvis in his 'Aloha' shows, the second half of the show introduced later hits from the 60's and 70's such as 'CC Rider',' I Just Can't Help Believing' and a cover of Dusty Springfield's 'You Don't Have To say You Love Me'. King replicates the moves and captures a credible look of Elvis although I would have liked to have seen a couple more costume changes. King does not take on the persona of Elvis introducing the songs in his own accent and not an American drawl. No tribute show would be complete without the obligatory handing out of silk scarves and King offers several which are snapped up immediately with those disappointed not to receive one, happy to get a kiss!
Elvis Presley was the only King....and still is, but Michael King shares the name and acts such as his ensures he lives on. Overall a show to be enjoyed by fans of all ages.
Reviewer: Lorna Weekes
Reviewed: 18th November 2019
North West End UK Rating: ★★★★