The atmospheric Blackpool Grand Theatre was built in the same decade as composers Irving Berlin, Cole Porter and George Gershwin were born (1890's) so what a fitting place to host a dance show extravaganza featuring the songs and music of these revered gentlemen.
Travelling back in time and recreating the entertaining era of the twenties and forties are three female and two male vocalists accompanied by four dance couples. Performing to pre-recorded music the singers join the fabulous dancers as they effortlessly take us through a variety of perfectly choreographed routines from ballroom to tap and an energetic Charleston. The lady's costumes are as expected, elegant, glittery, flowing and adding a touch of Hollywood glamour, but unusually for a show like this I was surprised to see one of the dresses used in the first half make a reappearance after the interval. I had anticipated seeing the gentlemen to be dressed in white top hat and tails at some stage too as depicted on flyers and posters and was disappointed that this was not to be.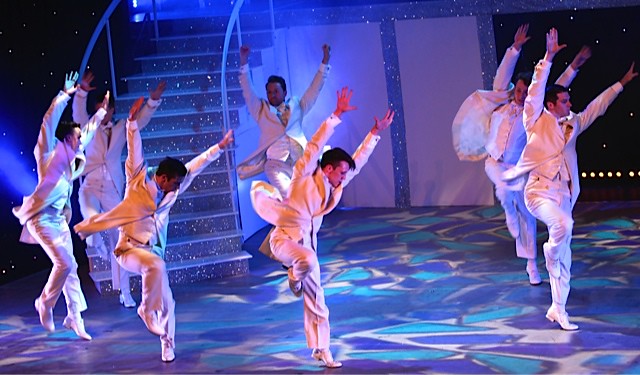 There are songs performed individually and collectively with 'Top Hat', 'Anything Goes', 'I Got Rhythm' and of course 'Puttin' On The Ritz' amongst them. Strutting and singing through 'We're A Couple Of Swells' the female vocals completely swamped the males, I'm unsure whether this was a sound issue or her voice was just so much more powerful, but it was a shame as the routine was good. It is not until late in the second half that personalities begin to show through. The dancers bring the first of the cheers as they sat at the edge of the stage and presented a brilliant and impressive hand jive and from then on the audience begin to participate clapping along and then encouraged to join in to the chorus singing 'Hi-dee hi-dee hi-dee hi' back in 'Minnie the Moocher' 'which increases in speed as it is sung causing much laughter.
The stage setting and lighting is simply a red draped curtain against a multicoloured twinkling star curtain and a glitterball. Whilst it is okay I felt let down by the lack of imagination, I had expected to see a full scale spectacular show with all the trimmings but maybe my expectations of at least a sweeping staircase, whether screened at the back or a scaled down version, were too much for this touring company. It all appears very bland and just a little more effort on the set with more spot and mood lighting, special effects and the addition of a band would certainly enhance the show. The dancers were beautifully choreographed and whilst I know space can be an issue, I felt at least another couple were needed to give it that feel of a full-scale show. More Interaction with the audience early on from the singers would certainly make it more memorable.
There are no programmes to this show so I have no idea who danced, sang or who the creatives are. Only a couple of the singers are named during the show but that is lost in the applause whilst an opportunity at the finale was missed to acknowledge the performers. What promised to be a spectacular and dazzling show Puttin' On The Ritz fell short and lacked sparkle and razzle-dazzle. http://www.puttinontheritztour.com/
Reviewer: Lorna Weekes
Reviewed: 5th July 2019
North West End Rating: ★★★