These days, there's quite the trend for stage musicals inspired by hit movies, and the Opera House at Blackpool Winter Gardens is proving a popular stopping off place for them as they tour the country. Why, only last month I was at the venue seeing Sister Act, and now it's the turn of Hairspray, with a 2007 film version famously starring an unrecognisable John Travolta in the role of Edna Turnblad.
The show is set in Baltimore in 1962 and central to everything is ambitious, starry eyed, talented Tracy Turnblad (Rebecca Mendoza), who is overweight and longs to appear on the weekly Corny Collins television show, where teenage dancers and singers get to strut their stuff. Cue myriad fat jokes at her expense – a little jarring to modern ears and certainly not PC, but we're soon carried along in Tracy's enthusiasm to achieve her ambition. Mendoza can certainly shake a tail feather and she has a fine voice – although her American accent all but disappeared as she sang, losing a little of the characterisation in the process.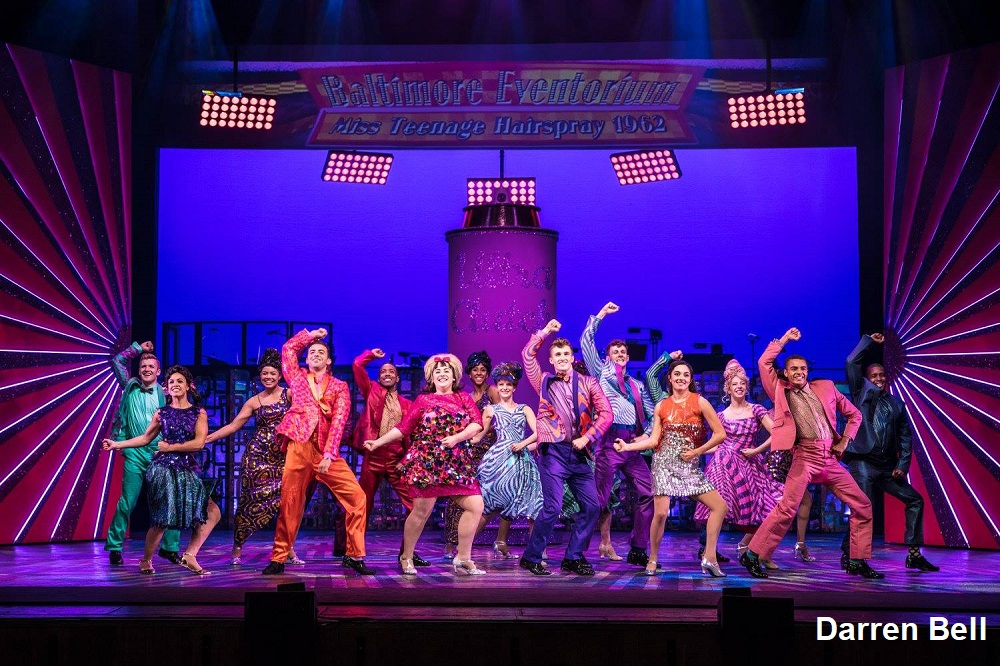 She has the best numbers though – Good Morning Baltimore and You Can't Stop the Beat topped and tailed a production that is packed with songs, although some appeared to be more padding than substance and several were so badly enunciated to be rendered unintelligible, with the worst offenders Annalise Liard-Bailey as Penny and Gina Murray's Velma Von Tussle.
Highlight for me was the anthemic I Know Where I've Been – a tour-de-force performance from Brenda Edwards as Motormouth Maybelle which elicited my first genuine applause of the night while I puzzled over just what was missing here.
My conclusions? The ensemble pieces were enthusiastically performed but a little ragged at times; Edna Turnblad became a panto dame at the hands of Matt Rixon (at one point I had to stop myself shouting 'He's behind you!'); and overall it seemed stretched out and clumpy.
Highlights? The aforementioned Brenda Edwards; a surprisingly good performance from Norman Pace as Wilbur Turnblad; the incredibly rich, almost orchestral sound produced by a band of just eight, including the musical director; and the psychedelic finale featuring my favourite song from the show, You Can't Stop the Beat.
Sadly, it wasn't enough to win me over. I arrived at the theatre expecting a back-combed, bedazzling beehive of a show but I was sorely disappointed; this Hairspray left me feeling as flat as a comedy comb over.
Hairspray is at the Opera House, Blackpool until Saturday, September 23rd. For tickets and more information visit http://www.wintergardensblackpool.co.uk/events/hairspray/
Reviewer: Sandra Mangan
Reviewed: 18th September 2017
North West End Rating: ★★★