I currently have the Hamilton: The Musical soundtrack playing on repeat on my sound system. I love its originality, exuberance and chutzpah and the fact that it manages to teach me history in a totally painless way. I'm betting when Lin-Manuel Miranda first mooted the idea he was greeted with disbelief and derisive laughter.
That first paragraph could equally apply to Evita. Today it is rightfully treated as a classic musical, but can you imagine the reaction when Andrew Lloyd-Webber and Tim Rice were trying to sell the idea? 'We've written a show about the social climbing wife of a South American dictator' – Springtime for Hitler springs to mind. Thankfully, the show was allowed to speak for itself – and how eloquently it succeeds! But has it stood the test of time? I was about to find out...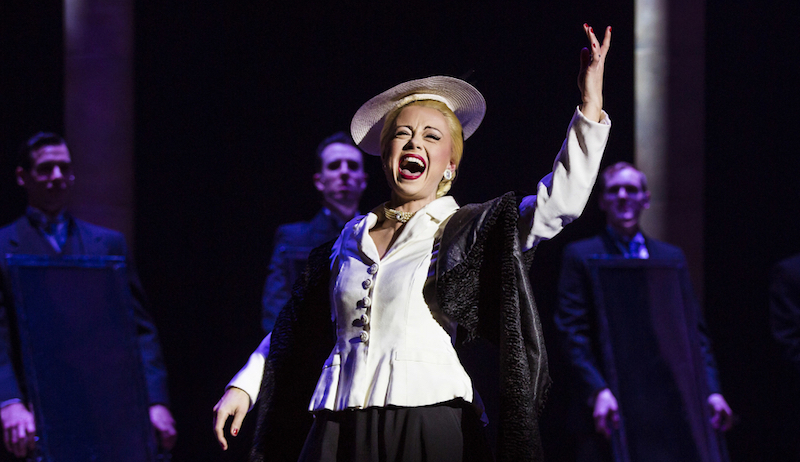 I'm old enough to recall the concept album featuring the delicious David Essex as Che. No one can beat him, right? Step forward Gian Marco Schiaretti, who is tuneful, energetic and totally toned. He brought a Poldark sexiness to this pivotal role, demonstrated a fine and infinitely flexible singing voice and gave a tour de force performance that had the crowd cheering at curtain call. Essex has lost his crown.
He was matched note for note by Emma Hatton as Evita. She has a clear, beautiful voice, diamond sharp diction and a tone that was reminiscent of Elaine Paige (who made this role her own), with a touch of Celine Dion for good measure – a thrilling combination which was demonstrated best in the gorgeous You Must Love Me and the showstopper, Don't Cry for Me Argentina. Another highlight was Sarah O'Connor's nuanced performance of Another Suitcase in Another Hall.
The costumes were stylish and sumptuous, while a cleverly rendered set gave the performers plenty of space to work – and boy, did they work! The ensemble pieces had fluency and fluidity and incessant energy – I loved the slick choreography by Bill Deamer, which must have been testing on one of the hottest nights of the year. The Soldiers strutted and stamped in complicated routines worthy of the Rockettes, while the Aristocrats preened and glided effortlessly.
As the curtain came down in Blackpool, rapturous applause echoed around the auditorium and many people were on their feet. Next year sees the 40th anniversary of this musical – on this showing, it will be around for a good deal longer.
Evita is at the Opera House, Blackpool until Saturday, June 24th. For tickets and more information visit http://www.wintergardensblackpool.co.uk/events/evita/
Reviewer: Sandra Mangan
Reviewed: 20th June 2017
North West End Rating: ★★★★
Photo: Pamela Raith