It has been possibly twenty years since my last visit to Preston's Charter Theatre. I remember my grandparents taking me to see the annual pantomime there. It got me thinking about this as I watched Ballet Cymru's version of A Midsummer Night's Dream. There were pantomimic influences amongst the vast range of influences upon this production.
Adapted from Shakespeare's original text A Midsummer Night's Dream Ballet Cymru tell the tale of Fairies meddling in human affairs. With young lovers Demetrius, Helena, Hermia and Lysander all falling for each other both with and without the help of Fairy king Oberon's magic potion unwittingly administered by his fixer Puck. If it sounds confusing then it is. Fortunately this part of the story was glossed over to a large extent as the main focus of artistic attention focussed more towards the quarrels between the king and queen of the Fairies Oberon and Titania culminating in the focal point of the entire piece when they make up.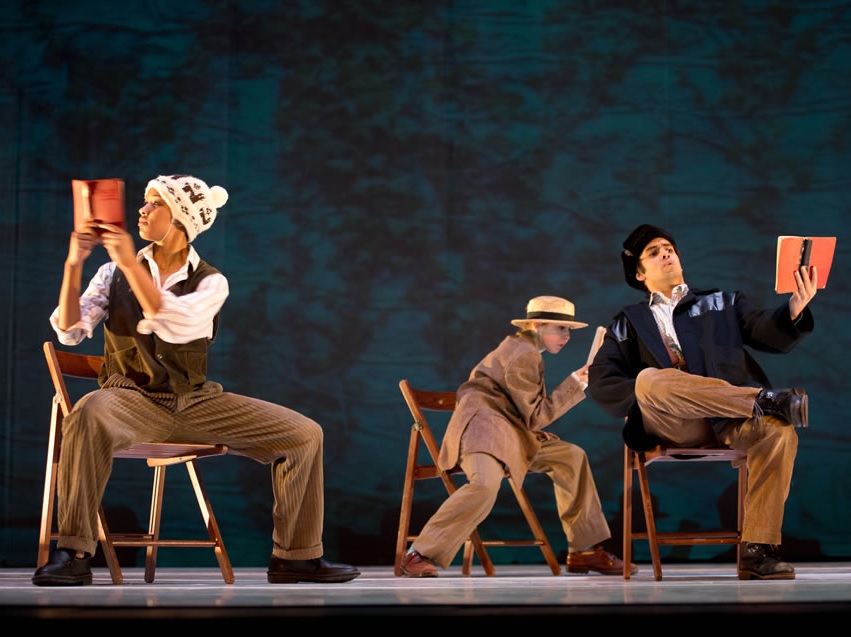 Opening to a bare stage (highly helpful for dancing) with a projection onto gauze this set design was incredibly simple and had an almost cinematic style to it as it introduced the piece. Av and set design is credited to the choreographer so it's understandable that his priority would have been to let the dancing do the work of telling the story. It's doing single dates in venues so it may be a case of economics.
Unfortunately when combined, the performance lighting and design elements of this production seem to be for the large part a little bland. It's only in the act of the piece where Titania and Oberon are making up that the lighting design and performance complement each other perfectly to give beautiful results.
A major disappointment for me with this production is the lack of live band. I cannot get over this fact. The programme credits list music by Felix Mendelssohn but doesn't give much further information. We don't know who the musical director is if there is one. For a company who aim to have a "high standard of collaboration with choreographers, designers, composers and musicians" there seems to be very little collaboration on this production.
These comments take focus away from the production but at the same time are issues integral to a thorough examination of this show.
Moving onto to positive comments, there is much scope to be highly complementary of the young cast of dancers who prove themselves to be highly confident and talented performers without any weak links. Leading the field were Andreamaria Battaglia (Oberon), Gwenlillian Davies (Titania) whose final duet dance was rather good.
While I've criticised aspects of this production I truthfully had a pleasant evening's entertainment. Coming from a theatre rather than dance perspective, the influences apparent in this production were noticeable to me as mime and physical gags highlighting the trickery and/or mischievousness of the Fairies.
I'm not waxing lyrical about this show but I'm not prepared to slate it. It was a strong performance and production, it could have been braver and should have been. Nevertheless, it's worth your time.
Reviewer: Karl Barnsley
Reviewed: 7th June 2017
North West End Rating: ★★★★