Friday night in Blackpool and a bunch of women are having a GOOD time. No, we're not out on a hen do or at a works leaving party – we're at the Grand for a night of theatre that will resonate with any female of a certain age.
It is always cheering to see a theatre with lots of bums on seats, and the upper circle, dress circle and stalls were filled with a predominantly female audience, the majority of whom knew EXACTLY what the four actresses on stage were talking about. Hot flushes, night sweats, wrinkles, cellulite, loss of libido.... any woman who has gone through 'the change' can relate. And this audience did, in spades!
I felt sorry for the odd bloke dragged along by his other half, because this show is about women and for women – and that immense feeling of sisterhood filled the place to the rafters, to the exclusion of any mere males who happened to be there.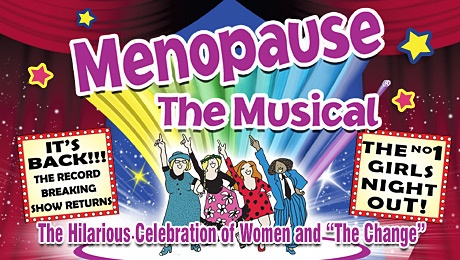 It's an inspired idea to use music familiar to the target audience and tweak it to fit the bill. Songs like Change, Change, Change, My Husband Sleeps Tonight, The Great Pretender, Please Make Me Over and My Thighs melded well-loved tunes to snappy lyrics that had the audience in hysterics. I'll never be able to listen to Good Vibrations again without thinking of Ann Summers!
Sharing the spotlight on stage were Cheryl Fergison as the Earth Mother, Maureen Nolan as Soap Star, Rebecca Wheatley as Housewife and Ruth Berkeley as Power Woman, but it was Fergison who really surprised, demonstrating a fine singing voice and sharp comic timing. Berkeley has a great range and her songs were among the show's highlights, while Wheatley, unrecognisable as the dowdy Housewife, created some memorable moments. Sadly, there were moments when bad diction meant it was hard to follow the unfamiliar lyrics, with Nolan being the main culprit.
Don't expect high drama or fine acting. The show is a series of vignettes, connected merely by menopausal symptoms – but what it lacks in cohesion, it makes up for in pure audience engagement. The quirky quartet worked their socks off and were rewarded with rapturous applause at the end of the night. There are but a few shows left on the current tour, but Menopause the Musical will be back in 2018. If you're female and love a bit of fun, I recommend you grab a ticket.
Reviewer: Sandra Mangan
Reviewed: 24th March 2017
North West End Rating: ★★★