On the way to this gig I thought, 'A guide to the world of opera in a 45 minutes. Ambitious.'
If you don't know your Turandot from your La Traviata then this one women show is there to help you.
Madame Chandelier, complete with accordion, made her effervescent appearance. She energetically entered the room looking like a Norse damsel wearing a Viking helmet and blonde pony tails.
She started the show with a drinking game. She poured prosecco into shot glasses and as she played a glass was passed around the audience. When she hit the high note whoever was holding the glass had to drink. This is a great way to start a gig.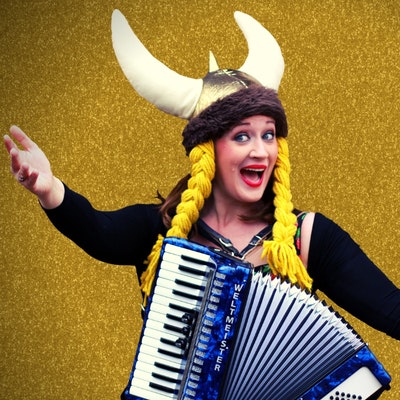 The studio at the King's Arms is a small room and on a humid evening it was quite sweaty. This did not stop an enthusiastic audience from enjoying themselves. They were really up for it and there was plenty for them to do.
As anyone who has seen opera will know there are plenty of costume changes and Madame Chandelier did not disappoint in this regard.
When reviewing opera you judge the voice and the acting. She was able to cleverly display her singing ability whilst performing the arias in a comedic way. A difficult thing to pull off but she pitched it perfectly.
She was able to intersperse into the show gentle satiric points about certain operas and the need to refresh and modernise the genre without detracting from the general silliness of the show.
You don't need to be an opera buff to enjoy this show. That is, obviously, the point. Madame Chandelier asked at the start of the show how many had seen an opera and most of the audience raised their hands.
She is taking this show to the Edinburgh festival and it will be on at the City Café as part of the Free Fringe. If you are going in the first two weeks of August and want to see something silly and educational then I recommend you go and see it.
It is a quick and cheap way to learn a bit about opera just in case you ever want to appear more sophisticated than you are.
It may have been ambitious to provide a guide to opera in 45 minutes but Madame Chandelier's charm and talent makes it entertaining and very funny.
Reviewer: Adam Williams
Reviewed: 13th July 2019
North West End Rating: ★★★★