The beauty of the Greater Manchester Fringe Festival is the scope it gives different kinds of performances to be showcased, for example a walking tour of Manchester led by Rock Star Liam Gallagher and Feminist Activist Emmeline Pankhurst. An unlikely combination to say the least, but somehow it worked!
Starting off at the Old Roman Fort in Deansgate, we are greeted by Emmeline before Liam arrives fashionably late. This was an apt location to start as Emmeline explains that Manchester is derived from the original name of the Roman Fort 'Mamucium'. The tour takes us around the city centre, with pit stops at different locations where the characters presented a performance rich with information. Of course, there was reference to much of Manchester's history including the Peterloo Massacre, the cotton industry, and Liam made sure to point out every pub we walked past with Emmeline despairing at her colleague.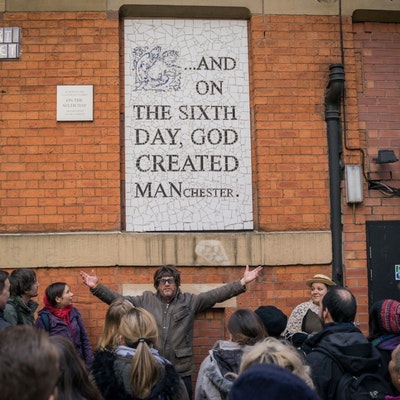 The actors didn't take themselves too seriously and improvised well with the group as they walked between locations, with Liam taking pride in being a lollipop man whilst we were crossing roads. This kept the group engaged throughout the whole experience. Emmeline and Liam had entertaining banter with each other and a great rapport with the group, they made sure everyone felt included in this immersive experience. The actor's commitment to character was admirable and certainly made for some humorous moments. They gave witty and engaging performances throughout the evening, and the night was made by some surprise characters along the way.
As one might expect from a walking theatre performance, there was a lot of walking, but it is a manageable amount that is broken up by the landmark stops and a small group break halfway through the two hour show.
When Liam met Emmeline is truly something that needs to be experienced. Gare du Nord Theatre Productions have produced a unique theatrical performance, full of history and comedy in equal measure. There's still time to catch one of the tours over the weekend: Saturday 6th July (10.30am), Sunday 7th July (11am). You don't want to miss out on this witty, interesting, and charming theatrical event. https://manchesterfringe.eventotron.com/?event=37844
Reviewer: Becky Mottershead
Reviewed: 4th July 2019
North West End Rating: ★★★★