Until last night, I knew only a handful of plays by John Godber (Bouncers, Shakers, Teechers, Up 'N' Under) and although they seem to be very popular choices with amateur and professional companies alike, they really are not my cup of tea, and so when I was asked to go to another play by Godber this evening, it was with some trepidation.
September In The Rain however proved to be quite atypical of the body of work I already knew from this renowned contemporary playwright. In his other, earlier comedies he is raw, rough and ready, angry and highly satirical. There is a vehemence and a mockery of society present within these plays, and although they are small cast plays, the cast are invariably asked to morph into other characters in front of us without costume change. These things, as far as I was concerned were the trademarks of Godber. Tonight's play was much more gentle. There was still an undercurrent of the anger, the violence and the satire. These things hadn't been lost completely. Neither had the split second character changing. However this was much more competent and mature writing. These elements were coated with a blanket of self-assuredness and was a much more fully-rounded play because of it. It was a gentle, nostalgic, bitter-sweet tale of holiday reminiscences, and a very real look at the interdependent relationship of bickering couple Jack and Liz.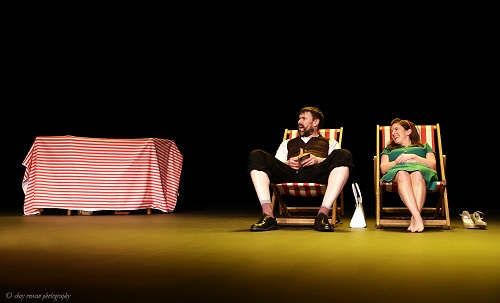 Speaking directly to the audience, the two of them reminisce about one of the many holidays they took to Blackpool [in September, in the rain] in the 1950s if the costuming and popular culture references were anything to go by. With the use of two wooden chairs and little else, the couple take us on their journey from their home in deepest darkest Yorkshire to Blackpool, through their holiday highlights (a rollercoaster ride, going up Blackpool Tower, walking along the prom, sitting in a shelter or sitting on the beach in deck chairs) to going back home again. It is a slow-moving, gentle pastiche, with good use of humour. It is also a very real and well-observed human comedy. I am old enough - just- to remember elements of what I witnessed last night when going on my first holidays with my parents. [Men wearing trousers rolled up to their knees and knotted handkerchiefs on their heads dipping their bare white feet into the sea ]. I also know quite a few couples who have such a difficult and tiring relationship - one of constant rowing over minutiae; of getting on each others' nerves but then making up a few minutes later; of forever fussing over each other and then getting annoyed about it.
Sadly, once again, I am disgruntled due to the lack of programme. I cannot therefore credit anyone by name. It was directed ably, sensibly and sensitively. All I can say about the actors is that both Jack and Liz were excellently cast, not only for their physical requirements but for their acting ability too. They worked excellently together and were very real and believable. The simple set of a star curtain and projected tower as backcloth, a few coloured fairy lights and two wooden chairs worked excellently, and the LX was perfect. The changes from sunshine to rain, cloud, evening etc were spot on every time, and the short dance sequence at the end with the mirror ball was lit perfectly.
My only real criticism with the whole thing was that the interval was unnecessary. The play should have been performed straight through without a break. It was weakened because of it.
Tonight has not converted me into a Godber fan (despite his being in attendance this evening), but it has shown me that there is more to his writing than I had previously thought and won't be put off going to see more recent plays of his.
Reviewer: Mark Dee
Reviewed: 14th July 2016
North West End Rating: ★★★★