Descending the stairs of Bar Pop to the basement theatre area, I was excited to see my first Greater Manchester Fringe offering of the season. Tipping Point was billed as telling the story of five phobics in a support group, a 'dark comedy'. David Howell, the writer, introduced five caricatured stock characters onto a simply set stage, allowed them some moments of obvious and overblown humour, and then gave each character a monologue revealing their inner secrets and hidden pasts.
Each of the characters' stories was interesting, with some moments of real depth, but a little more subtlety could have been used when telling them as the monologues felt slightly heavy-handed. Equally, due to the short length of the play there was little to no time available for character development or even adequate introduction, which is probably why a couple of the characters came across as parodies of themselves.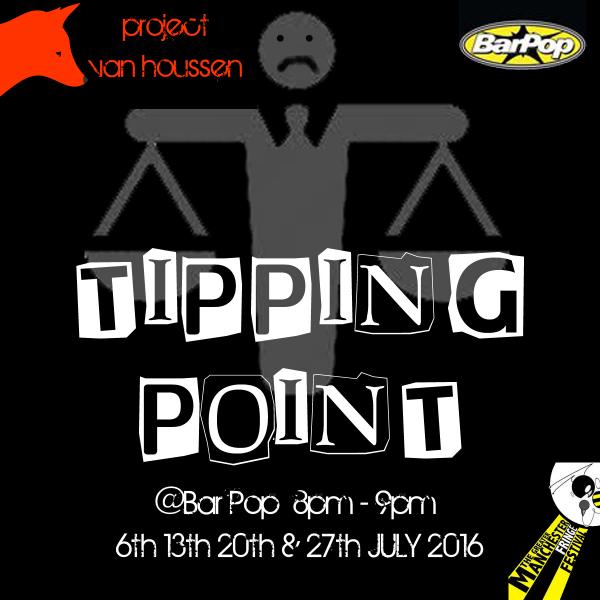 The characters were not linked to one another in any meaningful way; they were simply islands of themselves, caught in their own stories, although as each was only afforded a small amount of time it was difficult to relate or feel invested in their journeys. In addition, during the moments of dialogue, the overplaying of characters could be very distracting from the focus of the action. This was highlighted by the confusing addition of the Kung-Fu student later in the play, which distracted from the dialogue while building up to little more than a throwaway gag.
There were moments of promise in the play, particularly in the monologues of Timothy and Steve, and the character of Mary was intriguing and played with subtlety. However, overall, the plot felt hurried and the characters underdeveloped, with the comedic elements and the darker reveals jarring rather than complementing one another. A little more thought, time, and development is needed.
Reviewed By: Hannah Torbitt
Reviewed: 6th July 2016
North West End Rating: ★★