Preposterous, pretentious… absurd, but warm. Shona Reppe has 'previous' as they'd say in police stations. Look up 'Potato Needs A Bath'. Cheek. Tongue. In. Wondrously 'out there'…
Which is where this starts, in the middle of the North Sea, on an obscure island halfway between Norway and Scotland, where our artist is born. As an orphan, she is rescued and nurtured by a grim-faced Sardine-packing Mother and a Laundryman Father from Fife. Oh, and struck by lightning at the age of four. This is related to us by the arts curator introducing the exhibition. Possibly moonlighting from Radio 4's Front Row (and played by Reppe), she clearly holds in high esteem such artistic musings as 'Is a photograph simply proof that something was once there?' The artist is Atlantis Banal, and this is her exhibition. C'mon, the clue's in the name.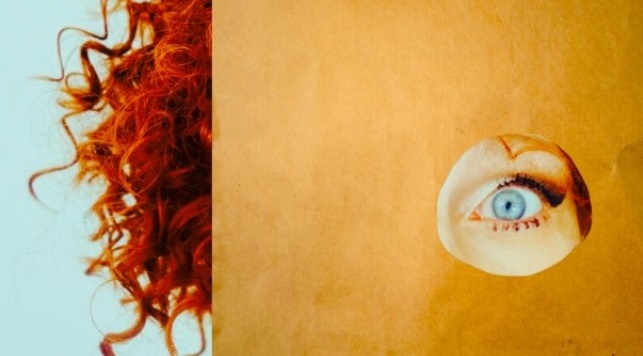 Descending the stairs to Traverse 2, we're greeted by flight attendants (Reppe herself and Tamlin Wiltshire as the much put-upon Graeme) and escorted to low white wooden benches flanking a rectangular white floor. Their safety briefing about The Pop-Up Gallery warns us to 'please stay off this unless invited'. There are large screens either end upon which are projected images, the artist's musings and other bon mots. Atlantis makes her first appearance replete with orange head-dress composed of various plastic items, lit from within by tiny bulbs. The first of the notable props is a giant fish. A floating giant fish, airship-like in front of our noses. Both prompt laughter but what's great about this show is that it pokes fun at the arts, while at the same time appreciating the artistic imagination. How else did Dali create such fantastical landscapes… whatever led Warhol to decide a soup can might be interesting?
It's a heady combination of mime, props, puppetry, costumes and the script; if you were pressed for reference points you'd say somewhere between Chris Morris and Jacques Tati. Out There.
More questions are posed; 'Are we all full of other people?' building towards 'Does it make sense?'
Are we bothered? There's a scene where Atlantis appears in a dress made of an old Ordnance Survey map of Fife. She spreads this on the floor, eliciting different sounds depending on where she places her feet; a tennis match, a motorway… some birds are disturbed as she bends down to prod a tree. We don't know precisely why, but it was fun.
There's lots more crammed into the hour, tricky to relate in any strict order (this review could easily be three times longer). The music (Fabien Cartalade) contributed appropriately (alongside the lighting) to the immersive effect and mention should be made of the Director Charlot Lemoine (Velo Theatre), for he is credited as the co-creator. It's billed as a family show, so take the kids. They won't 'get' everything, but it's doubtful they'll forget it either. It's such an assault on the senses one leaves feeling (gently) mind-blown, out there, like that little island where it all began.
Reviewer: Roger Jacobs
Reviewed: 22nd November 2019
North West End UK Rating: ★★★★