Lisa Hammond and Rachael Spence's heart-warming double act challenges us to look beyond the façade of visibility.
Great actors are propelled by great writers, a fact the theatre company, Bunny, knows all too well. Failed by playwrights and TV scripters, 'double act' and best friends Lisa Hammond and Rachael Spence turn to the Great British public for the ultimate script to see them through the evening. As the evening progresses, we release we're going nowhere fast. But somehow, nowhere tells us everything.
On one hand. 'Still No Idea' is a metatheatrical production about theatre making. Featuring vignettes, songs, 'improvisation', songs, and confessions- Lisa and Rachael take you through the motions of many a theatre writer.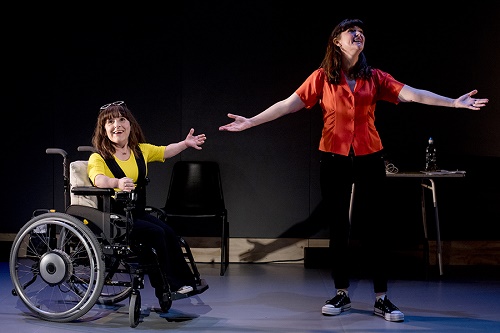 On the surface, it's a heart-warming, tongue in cheek take on writers block. Below the surface, as our hilarious one act show unfolds, uncomfortable truths emerge about the visibility of people with disability in an era of an inspiration fanaticism, bubble to the top.
Lisa and Rachael's dissection of the writing process is an examination of prejudice. Not just of the prejudice we carry towards an actor in a wheel chair, but also of the prejudice that the media and those who carry it produce. Subtlety crafted, Lisa and Rachael take us on their writing processes, factoring in time for exposition, climax, and even denouement. The point is simple though not laboured. Referencing their ten year old work 'No Idea', and drawing upon their life experiences (as every writer does), amidst the song, dance, and tongue- in cheek confessions, the truth is apparent from Spence, Hammond and fellow writer Lee Simpson.. Society and the media give people with disabilities the platform to be visible, but not themselves. Admits the hilarity, the simple details of those who have willingly taken their lives as a result of the loss of benefits during cuts is a painful reminder of engulfing issues that we barely acknowledge. They are usually rarely spoken about statistics and an indicator of a greater problem that lays beyond our auditorium or TV soap scripts - people with disability who are not even seen at all.
Situated on their blank stage with only minimal props to help them, this is a stripped back theatrical experience, which allows of their personalities to shine through. Describing Spence and Hammond within the confines of the tropes of all classic double acts, does this two friends, pioneers, and actors no favours in a show that attempts to dismantle them all. Reviews frequently rely on tropes to succinctly condemn, praise or critically survey performances. Hammond and Spence offer so much more than this.
This production with no apparent plot, telling its audiences so truthfully about one of society's biggest problems, as sweetly as sugar in tea is joyful, yet so painfully hard hitting, for those who have no idea, and those who know it all too well. We all need to hear it.
Reviewer: Melissa Jones
Reviewed: 6th November 2019
North West End UK Rating: ★★★★