As I've previously said in previous reviews, I'm not the words biggest fan of Charles Dickens. It may be something to do with the tedious catchphrases used by some of his characters which does nothing to endear me to the story he's trying to tell. The utterly ridiculous character names could also be a contributing factor with such ludicrous titles as Mr Pumblechook and Dick Swiveller (don't ask…).
Despite these personal gripes with his literature, I must admit that Charles Dickens work adapts remarkably well for the stage. Northern Broadsides adaptation of Hard Times proves my point most well.
It's a play with an acute political and social backdrop which feeds into the current political topics. Hard times draws attention to industrial and class relations of the industrial revolution. Set in Coketown which is arguably a pseudonym for Preston which Dickens visited, or indeed any small northern industrial town. The story is a complex one with a running theme of characters reactions to their hard line "fact based" education leading to being unable to respond adequately to life events through lacking the creative or emotional skills deficient in their education. They explain it better than me so I'm not going to attempt to spoil the plot.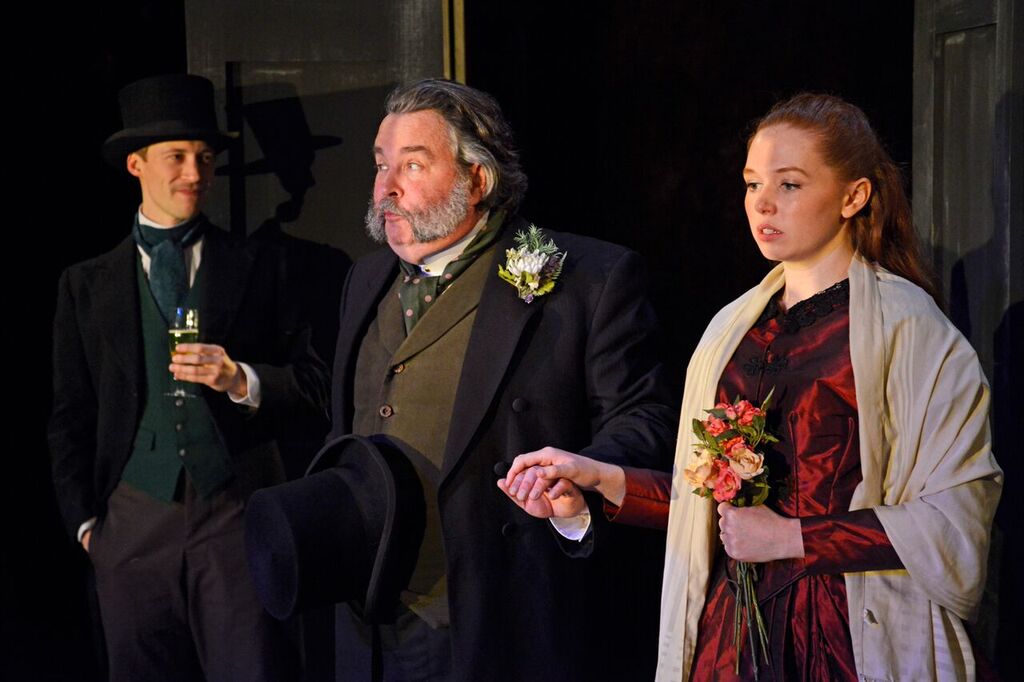 Despite the complex nature of the plot and the almost Jacobean language chosen in adaptation this story is remarkably easy to follow as an excellent ensemble cast convey their performances with precise clarity, making it very easy to listen to and process even at the fast paced nature of some of the scenes. Part of this is down to an excellent ensemble cast but also the top class adaptation by Deborah McAndrew. This adaptation is well developed and drives the story through from start to finish flawlessly. That said, it might be a little long…
In typical Northern Broadsides fashion we're treated to oodles of music with a range of brass instruments evoking the spirit of the old industrial bands which arose out of the early flourishes of trade unionism touched upon in the play. Mixed with a few folk songs of the time Musical Director Rebekah Hughes creating an energetic sound track to the play which lightens the tone of a potentially heavy play. One of the things Northern Broadsides gets right is their use of live music in their work.
It's a touring play doing a week in each venue it visits. This need is well met by designer Dawn Alsopp who has created a composite set of brickwork, high windows and plenty of doors which make it highly functional, and add to a unified aesthetic which is upheld in every aspect of production. It's another demonstration of the high standards being achieved by this touring company.
Hard Times is taking a bit of a tour around the country with its next stop at the Lowry in Salford next week. It would be a damn good call to go and see it.
Reviewer: Karl Barnsley
Reviewed: 2nd March
North West End Rating: ★★★★