It was packed to the rafters at The Slaughter House for the monthly midweek comedy extravaganza that sees the newer comedian dipping their toes in the live comedy waters as well as more established acts trying out some new material.
The evening was hosted by compère Phil Chapman, whose cheeky-chappy demeanour settled the crowd. A young chap on the front row by the name of Josh became the anchor of the host's banter throughout the night and an intriguing engagement with a young lady who came in late because she was getting ready and waiting for her friend who subsequently couldn't attend due to an injury.
The first act on stage was the much travelled Daliso Chaponda. He is due to embark on a six date tour throughout February entitled 'Love Sucks', which includes dates at The Lowry, Manchester (Monday8th February) as well as here at the Slaughterhouse, Liverpool (Thursday 11th February). Daliso used this opportunity to test out some new ideas for his upcoming tour with the use of prompt cards. By his own admission, some were better than others and he stumbled thorough a 20 minute set using a system of pocketing the cards that got a response and disposing of those that didn't. There was a neat reference to the absurdity of a souvenir shop in the International Slavery Museum before some relationship based material in preparation for his tour. As with most comedy about relationships there was the obligatory tip of the hat to dating sites such as Plenty of Fish and the useful tips which the site provides for interaction with the opposite sex. Daliso had some great ideas, some of which need further development. These coupled with his instant charm made him an enjoyable opening act.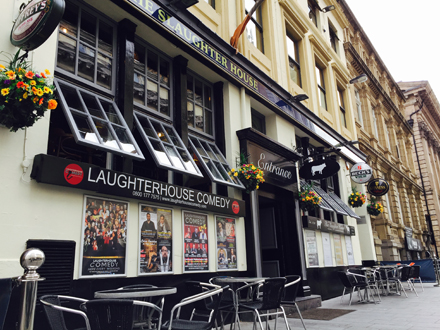 Following a short break, Phil Chapman introduced 22 year old Geordie Lauren Pattison. Lauren oozed confidence as she rifled through a ten minute set that included everything from her working class upbringing in Newcastle, her grandparent's relationship, her experiences of being a drama graduate and her bizarre relationship and living arrangements with her ex-partner. Her style is deadpan and her delivery on point as she recalls a hilarious altercation between her ex-boyfriend and a girl he had brought back to their house.
There was some more interaction between compère and audience before the next act, Liam Hale was introduced. From the moment he walked on stage and opened his routine by declaring he hated children I knew I was going to like him. Another with a deadpan style of delivery, mastered to perfection. Within the ten minute routine, I belly laughed countless number of times as he reminisced on a rhyme remembering the fates of Henry VIII's six wives before depicting his own interpretation to raucous laughter. Following the stuff about death, Liam said he'd reserved a more light hearted joke in case things got too heavy and proceeded to test the audience's patience as he silently dispatched layer after layer of wrapping to reveal a Penguin biscuit. He's most certainly a comedian whose style and delivery you will either get and find brilliant, or one that would test your comedy resolve and you would end up hating. For me, he was superb. His delivery was slow and matter of fact but his material was outstanding.
There was another toilet and drinks break as the headline act set up. Using a multi-track looper and pedals, Vince Atta from Manchester, produced on the spot hip hop and reggae beats. Mixing his phenomenal music ability with gut busting material, Vince had the crowd in the palm of his hand. We watched in awe as he effortlessly trawled his way through material about recruiting a gay best friend, girls with their 'resting bitch faces' and local references to Liverpool. Vince plays the Slaughter House again this weekend (Friday 5th and Saturday 6th February). He is not to be missed, a true talent.
Reviewer: Matt Houghton
Reviewed: 3rd February 2016