It's not often that a warm-up act is as good as the headliner, but Lauren Pattison is a very talented up and coming performer who had the audience rolling about with belly laughs. Pattinson is an honest, Northern performer who doesn't hold back with her comedy. A short set, but crammed with filthy, personal and honest jokes. Pattison is going to be a huge star in her own right one day and it was an honour to see her at the start of her journey.
We were also treated to a second warm-up act this evening in the form of funny New York Comedian, Alex Edleman. He opened the show with a very short set that set the tone for the evening and which quickly got the audience on side.
So, let's just cut to the main punch line… Katherine Ryan is a comedy genius. She's a smart, independent and very funny young comedian who treated the audience at The Lowry to a hilarious, hour-long comedy set as part of The Glitter Room tour.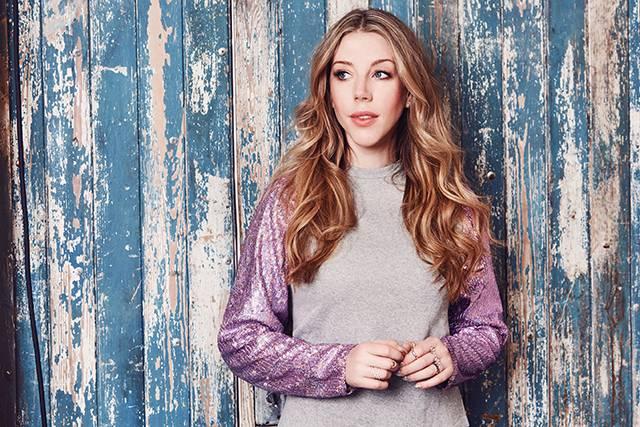 Ryan is amazingly confident in her comedy and she has also clearly become confident in life. The Glitter Room gives us a brilliant inside view of Ryan's life as an awesome and single, working Mum. She introduces us to her Daughter Violet, who has a very special (and grown-up) outlook on the world, who Ryan affectionally refers to as "The Tory" and whom has an insightful understanding of her Mum's love for wine; both morning and evening wine (white/red).
We hear about 'Jane' from "the school run" who Ryan claims she truly hates Jane has seven children, a husband in latex who runs marathons. We also hear about Ryan's ex-boyfriend who moved to Japan and expected her to follow, complaining when she didn't that she wasn't needy enough.
Ryan's brand of comedy is amazingly modern and very relevant, with many political and entertainment references. She rips into "Gold Digger" Melania Trump, who "knows less English now than when she first met him" and later Ryan tells us about her emotional "break-down" whilst in the audience of popular Broadway Musical, 'Hamilton'. We are treated to excerpts of the show (including a brief rap) to highlight the injustice of Alexander Hamilton's affair with Theodosia Bartow Burr. Ryan claims that she only saw Act 1 of Hamilton as she was escorted out by security for standing up and heckling the lead actor.
Ryan's performance appears entirely effortless. She expertly takes the audience with her through her story telling; allowing plenty of time for audience participation and reflection. An hour certainly goes by quickly when you are having fun, and without doubt when Ryan called time I genuinely felt sad that it was over. An awesome performance and a true comic tour de force!!
The UK tour of Katherine Ryan: The Glitter Room continues around venues throughout 2017/18: www.katherineryan.co.uk/tour
Reviewer: Alan Stuart Malin
Reviewed: 21st October 2017
North West End Rating: ★★★★★