The comedian Joel Dommett brought a mix of observational humour and pop-punk nostalgia to the Salford Quays. Famed from "I'm a Celebrity…" and an internet sex sandal the audience most definitely did not want to "…Get Out of There" (even when given the option by Joel!). I have to admit that I solely knew of Joel from his jungle stint last year, as well as several Sunday Kitchen appearances since, and I wasn't too sure what to expect. But I can happily say that Joel's stand-up routine was hilariously entertaining, and he truly is a stand-out comedian!
The fun started as soon as I entered the auditorium, hearing nostalgic hits from Avril Lavigne, Green Day, Sum 41, and a who's who of pop-punk and nu-metal bands from the early 00's, which hinted that Dommett was going to indulge his inner child. After introducing himself (a curiously hands-on touch that was just the right side of absurd) the man himself appeared, every inch the winsome, bearded, child-man whose articulate side is clearly engaging in an unceasing battle with his manic sensibilities.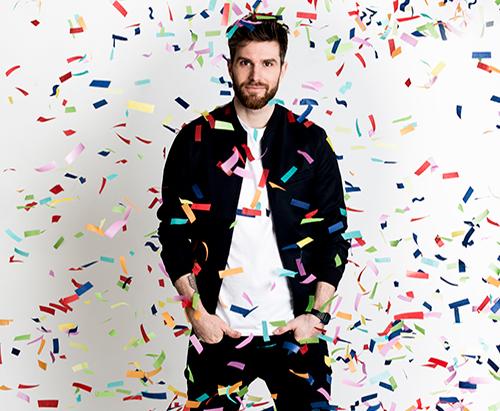 His initial nervous energy (which only served to endear him to the audience) subsided, and Dommett settled into his gawky groove nicely. Establishing audience participation early on was a nice touch, and helped an already energetic show bounce along happily. The maestro blended anecdotal stories (largely to do with his hapless romantic life and awkward teenage years) with general observational humour that will chime with everyone. The audience demographic itself surprisingly proved that Joel can provide a night out of entertainment for all with a good mix of male and female, young and old, friends and couples. Dommett's style crosses boundaries and it's to his credit that there was a belly-laugh a minute from every section of the audience.
Equally, those expecting a bevvy of stories from his time in the jungle will be left disappointed. But that's fine. Dommett's under no illusions that he isn't riding a wave created on the back of his "I'm a Celeb…" appearance last year, but is also clearly playing the long game, not wanting to be known solely as the Jungle Comedian. Ditto being the victim of an internet catfishing scam that resulted in his privates on public display - his experience of which becomes fodder in the second act but never usurps the trajectory of the show. It's all grist to Dommett's comedy mill, and quite right, too.
What was really impressive and satisfying was Dommett's ability to lay the seeds of gags in the first act that would only come to fruition later on. In his hands, all the anecdotal threads were drawn together to create a tapestry of comic absurdity, one that crescendos to a musical performance that had the audience rolling with laughter. And the show's well-judged use of lighting and music (fun fact about Dommett: he can actually sing) shied away from the pyrotechnic but created the atmosphere of a comedy-rock festival.
Overall, the show was a tour-de-force. Dommett gives himself over completely to the material and his energetic, highly physical performance will delight and enthral both those used to comedy shows and those experiencing it for the first time. To paraphrase Dommett's muses, the one-hit wonders Crazy Town, "Come come, Joel, you're our comic butterfly sugar baby..."
Reviewer: Amanda Hodgson
Reviewed: 18th October 2017
North West End Rating: ★★★★★