Tonight I had the pleasure of spending time in the company of not one but two stand-ip comedians: Australian and now London-based Bec Hill and British born Tiernan Douieb.
Tiernan Douieb - Work In Progress
Musing about life, with a clear political edge, came bearded funny-man Tiernan Douieb. He told us that the show was a work in progress, with some of the material being tried for the first time and with Tiernan holding a pad of notes. Throughout the act he shared thought processes and flagged new and old material, confessing the jokes that still needed to be worked on. I actually found this enjoyable, it was interesting to see an experienced comedian crafting a show.
The content of the show included the issues raised at the Labour Party Conference, which was being held in Liverpool this week, and Jeremy Corbyn's election as leader.
He also spoke about the presidential candidate debate between Hilary and Trump in the US - a topic ripe for comedy which was deftly handled. It became clear why Tiernan was so capable of handling this content, when he mentioned his weekly podcast and YouTube posting, entitled "Partly Political Broadcast".
In summary, Tiernan confessed his desire to make the world a better place for people but he's come to the realisation that he actually hates people!
Tiernan was very warm and disarming. This was a really enjoyable set with the potential to become a very entertaining show.
Watch out for the Lionel Ritchie joke!
North West End Rating: ★★★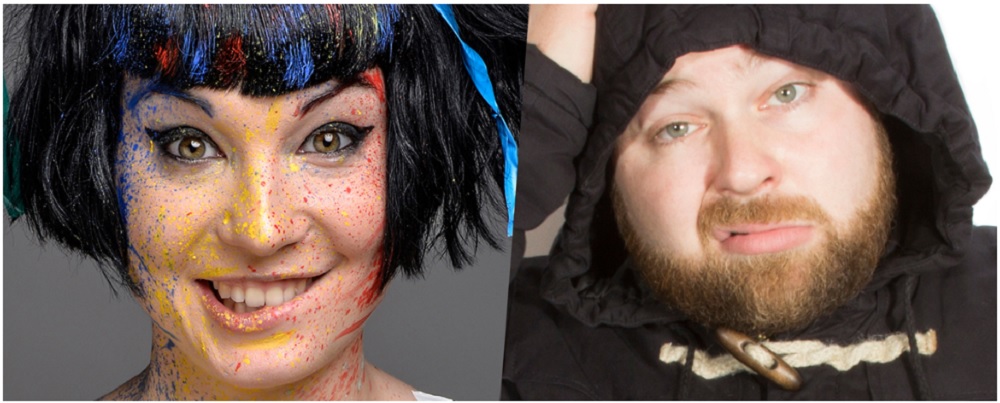 Bec Hill - Caught On Tape
The much-acclaimed and very creative Bec Hill entered the stage to the husky, emotive voice of Edith Piaf singing 'Non, Je ne regrette rien.' It is then that we were introduced to Bec's "paper-puppetry", which was a low-tech marvel!
Bec then went on to talk about herself, her family and a family video that captured an embarrassing incident fro her childhood, she was caught on VHS tape and she regretted it. Her own regrets caused her to reach out, via social media, and ask what regrets her followers had. These anecdotes and the themes of the regrets formed the central beam of the show.
We had audience participation, personal confessions, Bec's "talent" with accents and the unveiling of Bec's first book for children.
Bec had a genuine warmth and a sparkle that was truly captivating, immediately endearing the audience to her. The set was very well-crafted, funny but with moments of pathos and contemplation.
The set ended with more clever "paper-puppetry" demonstrating the McGurk effect: this demonstrates how what you see effects what you hear. This was hilarious. Oh, by the way, the Liverpool audience smelled great - according to Bec!
A really enjoyable and touching second-half to another great evening at the theatre.
North West End Rating: ★★★★
Reviewer: Alan Harbottle
Reviewed: 23rd September 2016