Knapley Women's Institute want to do something different to raise money for a new sofa in the local hospital relatives' room. But what could they do that will drum up interest and sell? That's right get the members to make a nude calendar.
Gary Barlow and Tim Firth's Calendar Girls the Musical came storming in to Storyhouse with a fantastic cast and a hilarious script. We are taken to Yorkshire with a simple yet brilliant set. The Yorkshire Dales in the background, a gate to break up part of the set and a space that was used to create numerous scenes. From rows of chairs for the WI meeting, to a wheelbarrow depicting the garden or a couple of chairs and great use of lighting to take us to the hospital relatives' room.
The story covers many lives and personal stories, told through a fantastic script that had you laughing until it hurts one minute and crying the next, carried along nicely by some songs that have been written to support the story.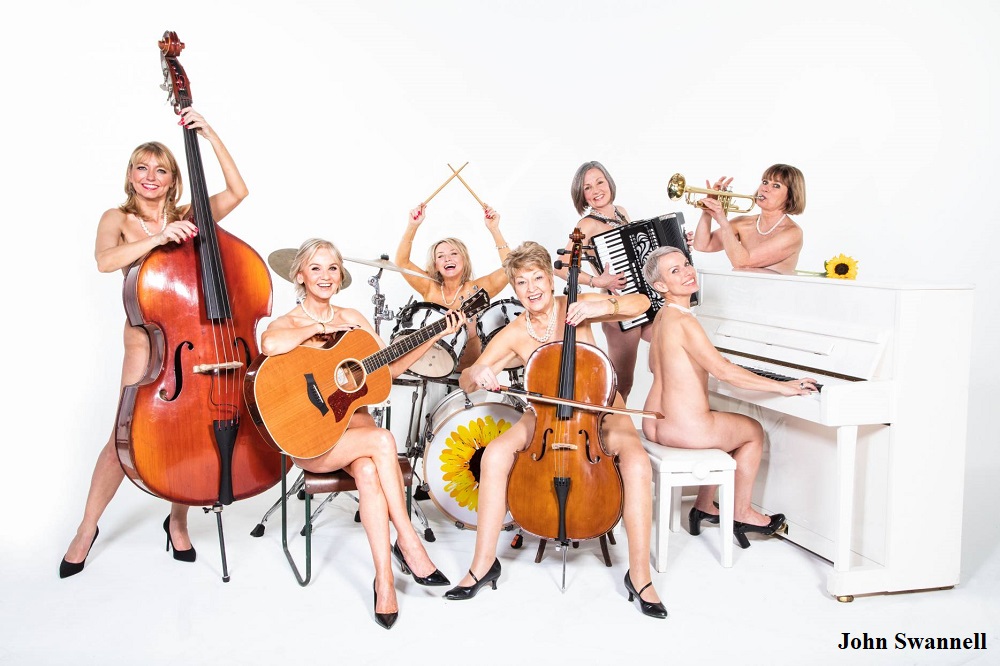 Annie (Sarah Jane Buckley) and Chris (Rebecca Storm) have been best friends for 40 years and do so much together, many times getting in to trouble, but when one of the husbands, a huge part of the community, passes away, it shakes up the whole group and tests how strong the friendship is. Each character has a tale to tell and in turn has their own song to go with their story.
Annie's song is beautiful and delivered so heartfelt and emotionally by Buckley. Another outstanding song is Sunflower, sung by Storm who absolutely blew the audience away with strength and power in the delivery of the song.
Cora is the single Mum whose father is the local vicar and was brought to life by Sue Devaney who had us all in stiches with great delivery and fantastic comic timing. Shy and Naïve Ruth, played by Julia Hills, is the characters journey I enjoyed most, you see a complete change and get many great laughs from her. Lisa Maxwell plays Celia very well, full of energy and a fantastic body which is used as part of the character and her journey. Ex schoolteacher Jessie was played by Ruth Madoc and what a character she played. With a beautiful rendition of What Age Expects, she had the audience cheering for her. You could feel the words of that song really hit home to many of the older generation in the audience.
There is not a weak link in this cast, each giving their all to bring this story to life and tell it as truthfully as possible.
The final 20 minutes are probably the best part as it comes to the climax of the show and the ladies pose for their pictures for the calendar and I must say a huge well done to all the girls for having so much courage to get up and do what they did as it was brilliant and had the audience screaming for more.
The story is taken from a true story back in 1998 and has been made into a film, a play and now a musical. Although I enjoyed the music as it was happening, I felt the story is strong enough to tell itself and does not necessarily need the songs. They were nice songs but personally I felt not greatly memorable.
Lighting was used extremely well, especially in the waiting room scene where the lighting made it look like Annie's world was closing in around her. Costumes by Robert Jones (who also designed the set) were fantastic. I felt the cast were directed very well by Matt Ryan. The band led by Musical Director Nick Pinchbeck sounded fantastic although they were a couple of times throughout it was difficult to hear every word to some songs due to them being lost in the music.
The cast 100% deserved the full standing ovation they received at the end of the show. I left feeling very cheerful and could feel the buzz from the audience as I walked through the foyer which tells me it was a brilliant show.
Reviewer: Damian Riverol
Reviewed: 29th October 2019
North West End UK Rating: ★★★★