Anything written by great friends Leah Bell and Crissy Rock can only mean one thing..... a ludicrously laugh a minute show and tonight delivered exactly what it says on the tin (or coffin!) and hilarious performances from each and every one of the cast. With original music by Mike Redway could this musical comedy be curtains for everyone? Set in Billy 'B's Cafe for the main, as the story of so many tragic deaths unfold they bring tears to the eyes of the audience, is it so moving? emotional? No! the absolute opposite....they are tears of laughter, never have actors 'died on stage' and turned a taboo subject into a complete and utter farcical funeral!
Billy 'B's cafe is situated in the small town of Olwinskirk between a funeral parlour/cemetery and scrap-yard and Betty (Crissy Rock), recently bereaved has set her sights on Billy Blenkinsop (Billy Pearce) as he appears a good catch, a business and not bad on the eye and quickly marries him only to discover that, excuse the pun, business is dead.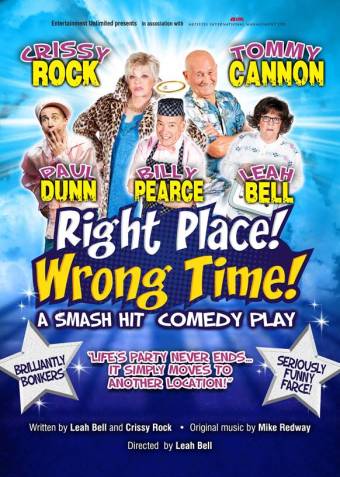 Partner in crime to Betty's dearly departed hubby Nodger, on the run and living abroad is Albert Blunderstone (Tommy Cannon), who has returned for the funeral of his parents who have met an untimely death. He reacquaints with Betty in the hope of discovering where the cash is stashed from his and Nodgers last bank robbery. Fickle Betty is taken by his charm, and mistakenly thinks he is loaded, owns a villa and maybe she married Billy in haste?
Undertaker Tristan De Winter (Paul Dunn), is droll but comes into his own when out of funeral garb and shows he has much more 'ahem ,cough and splutter' to offer! Brilliant song and dance! Poor old Thelma Henderson (Leah Bell) has also met her death, but at the Pearly Gates her admission is denied as its not her timeslot and has to wait for her entrance time to arrive and spends her days haunting Billy 'B's, who apparently was her onetime school crush.
Betty is loud, brash and singular, a strong scouse accent in evidence and from her opening scenes to her closing, Rock guarantees to have you in stitches with her character portrayal. Thelma in contrast is quiet and endearing and Bell delivers some of the funniest lines with excellent timing. Billy is just eager to please everyone and Pearce is totally loved by the audience giving a fabulous performance throughout, whether singing or carrying out his comedic role. As Albert or Alberto, as he likes to be known, Cannon doesn't let the side down, although more the straight man in this comedy, he adds many a laugh with slapstick and one liners.
The supporting actor taking on numerous roles, including the officer and gentleman look alike in charge of the pearly gates, also adds to the madcap scenes but sadly his name is not listed on the cast list so I am unable to credit him. Right Place! Wrong Time! is good old fashioned light-hearted fun (despite the plot matter). No matter there are old jokes for there are plenty of new and with slapstick and a whole lot of innuendo, its farce at its best and beware.....you could die laughing.
Reviewer: Lorna Weekes
Reviewed: 2nd October 2019
North West End UK Rating: ★★★★