Performed all over the world since the 1970s, Jesus Christ Superstar is one of Tim Rice and Andrew Lloyd Webber's most renowned musicals. Viewed as 'controversial' by many back then, the musical focuses on the final seven days of Jesus Christ and is told through the eyes of Judas Iscariot.
Crewe Amateur Musicals Society have taken on quite a challenge but a challenge that they have undoubtedly risen to. Performing Jesus Christ Superstar, this magnificent rock opera showcases the talent of this fabulous society and tonight it was performed to a very appreciate audience in Crewe.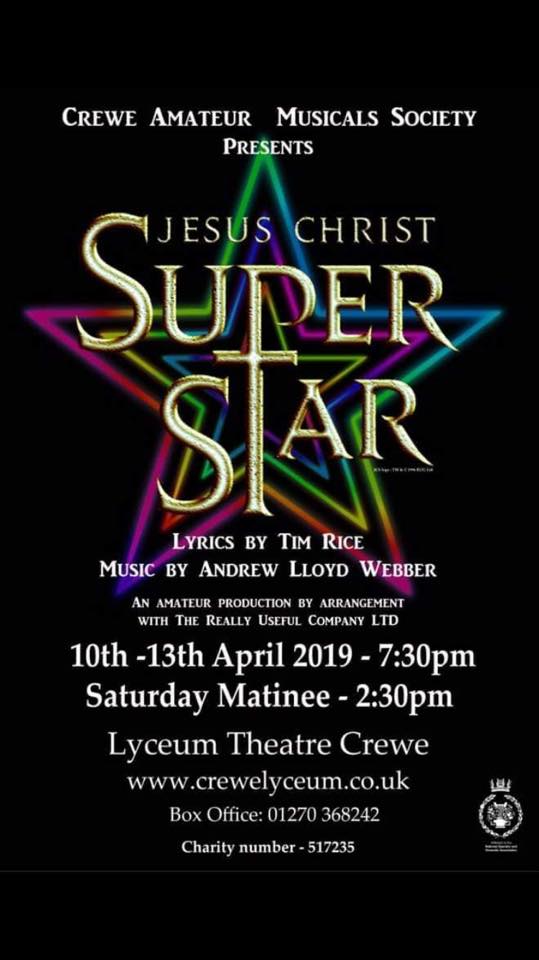 The role of Jesus was performed by Matthew O'Donnell and he was quite simply outstanding. His effortless stage presence was undeniable and his phrasing of lyrics spot on. Difficult to take your eyes off him at times, he portrayed Jesus with a naivety that is not always captured. His voice was a powerhouse and his falsetto perfect for the role. His chemistry with Mary, portrayed by Leanne Oakes was intense and equally her adoration of Jesus was incredibly effortless. Matched with impressive vocals, she performed the infamous 'I don't know how to love him', with ease.
Sean Clark Wilkinson performed the role of Judas and I understand he had loved the role from watching Tim Minchin perform it. He certainly performed his socks off in this production. Spine tingling vocals and an incredibly dramatic, yet entirely appropriate portrayal of a very troubled Judas, Sean Clark Wilkinson is one to watch.
A special mention must also go to the stand out performance from Nick Horsley who portrayed Pilate to perfection. An extremely competent performer he commanded the stage particularly during Act 1 in the Pilates Dream scene.
At times the stage was quite noisy due to the role of the mob and it was occasionally difficult to hear all the parts, however the cast must also be applauded for these scenes too as the visual on stage was very powerful, particularly the lashes scene as it did not take anything away from the central characters. Also the role of the mob was to create noise at times and almost 'act as one' which they certainly succeeded at.
The Director tonight was Sean Johnson Hargreaves and his creation on stage set was appreciated. The simple set complemented the vulnerability on stage from the main characters. The crucifixion scene was outstanding and very moving to watch. The Last Supper was also very well executed and portrayed the disciple's characterisation well in this scene.
The musicians on stage must also to be congratulated as they were present at the back of the stage for the duration and with such a busy stage they were undeterred by this and performed to a high standard throughout.
With very few spoken words and a musical almost entirely performed through song, Jesus Christ Superstar is undoubtedly a huge undertaking for any amateur group. However, Crewe Amateur Musicals Society certainly delivered on all accounts. If you want a high energy rock opera, performed by a credible Amateur theatre group such as this one, then I'd urge you to see Jesus Christ Superstar – it will not disappoint.
Reviewer: Angela Kelly
Reviewed: 10th April 2019
North West End Rating: ★★★★