'Smile and wave boys, smile and wave!'
We all like to move it, move it and thanks to the current tour of Madagascar the Musical, we all can move it, along with King Julien and his subjects. The Musical is based on the 2005 film of the same name, and thankfully stays very true to the story and uses the words and phrases we all know and love.
If you don't know the plot of Madagascar, where have you been for the last 14 years? We meet Marty the Zebra, on his 10th birthday at Central Park Zoo in New York. His best friends Alex (the Alex, the lion), Melman (the giraffe) and Gloria (the hippo) are all helping celebrate, when they get him to make a wish when blowing out his candle.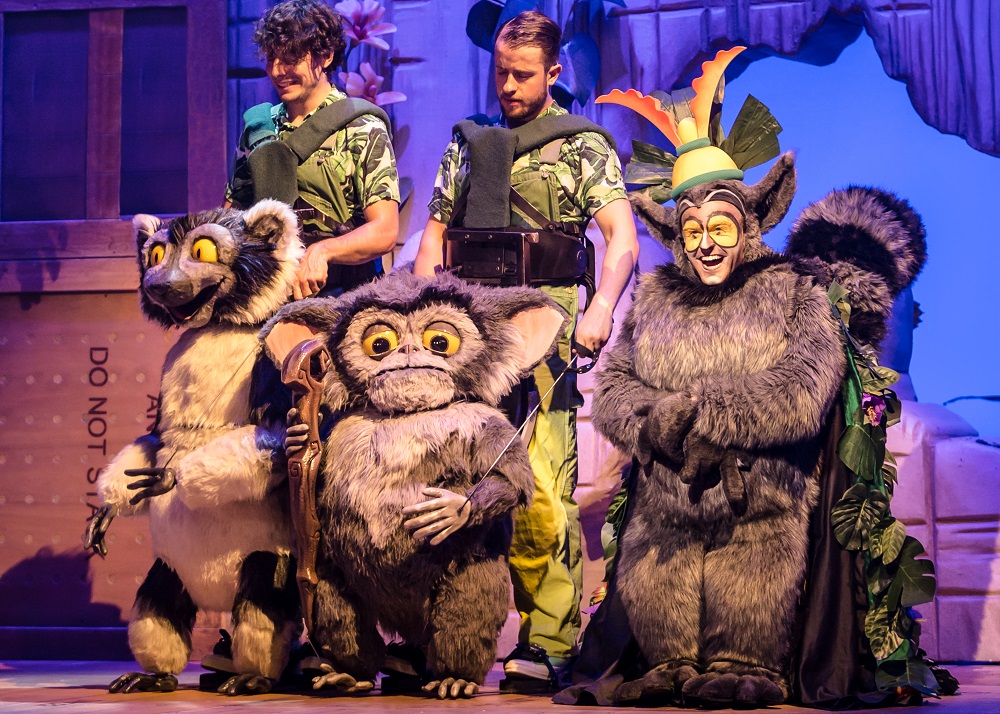 As he's never been there, having been born in captivity, he wishes to go to the wild. He manages to disappear without his friends' knowledge and they trace him to Grand Central Station, but so do animal control, and the four friends find themselves in cages being shipped off to Madagascar.
It is a small cast of 10 (plus two off stage swings), and all work well and gel together. There are moments when you forget that you are watching people portray the animals, they give that much characterisation to them. It's clear why Matt Terry has won the role of Alex, he sings with apparent ease and his charisma shines through. Antoine Murray-Straughan as Marty has the comedic timing of Chris Rock, Timmika Ramsey has the sass of feisty Gloria and Jamie Lee-Morgan portrayed Melman to a tee, hypochondria and all. However, all scenes were stolen by King Julien (Jo Parsons) and the Penguins (Shane McDaid, Laura Johnson, Jessica Nile's and Victoria Boden). They were very true to the film and it definitely made the evening more enjoyable! Their jokes always landed and Parson's rendition of 'I like to move it' went down a treat with all ages!
Selladoor's production of Madagascar the Musical, in conjunction with Hartshorn Hook Productions is directed by Kirk Jameson, to great avail. The set design by Tom Rogers was cleverly used and as true to the film and real life destinations as could be. The music and lyrics by George Noriega and Joel Someillan were fun and entertaining, although not very memorable. It was not a show that you came out singing the songs of. The choreography by Fabian Aloise was entertaining with a modern twist of adding flossing and dabbing into routines.
A fun evening can be had by all ages, and even more so by fans of the film and their children!
Reviewer: Jenn McKean
Reviewed: 19th March 2019
North West End Rating: ★★★