Whitney Houston was a queen of pop and R & B, she dominated the charts during her twenty-five year career, and is still (seven years after her tragic death) the most awarded female singer of all time and one of the best-selling music artists of all time. Most people know at least one of her songs, so packing out New Brighton's Floral Pavilion Theatre for a celebration of her work was never going to be a problem.
The concept is simple, a five-piece band and three backing singers support Elesha Paul Moses (who some may recognise from her various appearances on TV talent shows) as she interprets a selection of Houston's hits and shares anecdotes about the star. In this respect Queen of the Night is different to your average tribute act, Moses looks and sounds like Houston (uncannily so in some respects) but when not singing she is herself, sharing her fandom and adoration of Whitney with the audience.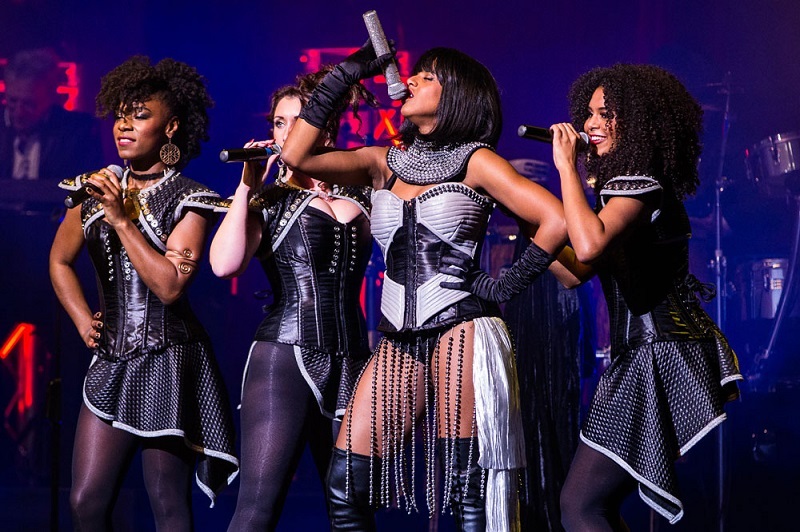 Belting out such iconic numbers must be daunting, but Moses's performance is slick, sometimes overly so making you wish for the raw energy and flair of Houston. Moses is ably supported by Mike Pagett's arrangements. As is often the case when reinterpreting Houston's catalogue of work (see also The Bodyguard: The Musical) Pagett has dropped the odd key or shifted a key change to make things easier for Moses, and the company's busy tour schedule - they are also touring a Tina Turner tribute which Moses also fronts. Luckily the audience are on hand to belt out the high notes!
On this evening Moses was not helped by the sound in the Floral Pavilion. It did improve as the evening went on but during the opening numbers the backing vocalists were too low in the mix leading to an imbalanced vocal sound. Leona Marie's choreography is evidently well drilled but somewhat laboured and unimaginative in places.
The energetic backing singers do their best with the material, but it always feels like they have more to give. The same can be said of the concessions stalls at the Floral Pavilion, who might consider employing more bar staff for future events. Huge queues before the show and during the interval meant that many people didn't get served (most of the people waiting near me gave up) or had to miss part of the show.
On the whole though Whitney Queen of the Night is an entertaining evening of mega-hits, glitz, and quick costume changes (many of which get their own round of applause!) which will delight fans of the iconic star.
Reviewer: Clare Chandler
Reviewed: 22nd February 2019
North West End Rating: ★★★★