Tonight was my first time at the lovely Brindley Theatre in Runcorn and what a pleasure it was, to be transported back in time to 1985 with the Centenary Theatre Company. An evening filled with crimped hair, cut off leggings, fishnets, Cyndi Lauper and big bridesmaid's dresses.
A relatively new musical first performed on Broadway in 2006, based on the 1998 film. The musical revolves around central character Robbie, 'The Wedding Singer', played by Tom McLouglin, his failed relationship with his former fiancée and his developing relationship with Julia, the sweet voiced Maria Ames.
With a large cast of close to 40, the stage was well decorated and filled with bodies, on the most part it was spaced well, however we did struggle to see certain members during the ensemble scenes.
We saw some fantastic cameo roles throughout and I will point out a few, a lovely piece of choreography for the young bride in the opening number and the gay couple of waiters, Directed by Seb Farrell.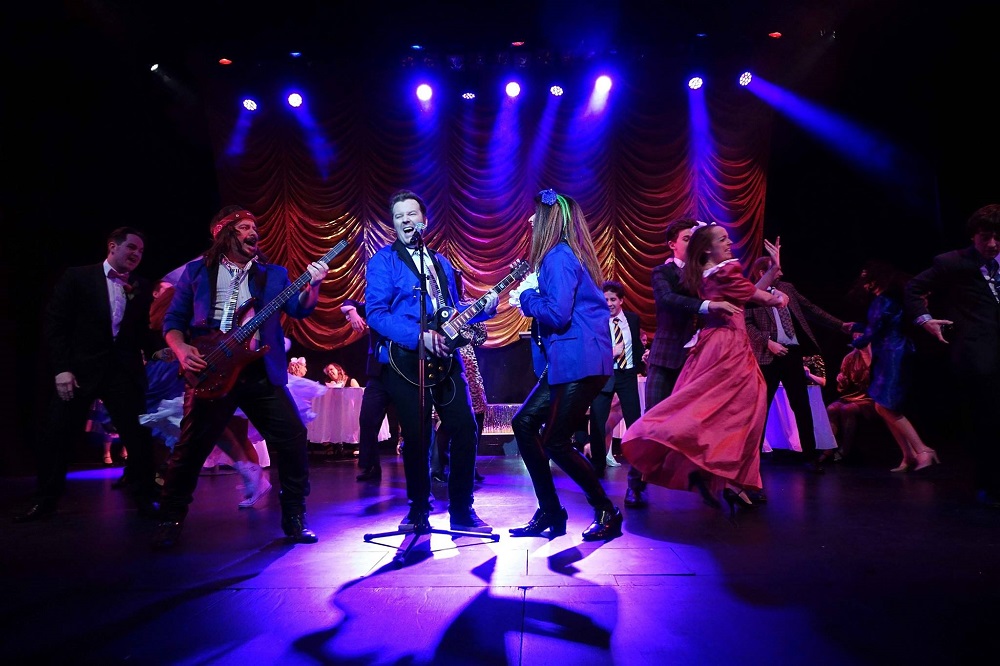 McLouglin delivered a well-rounded hilarious version of Robbie, portrayed in the film by Adam Sandler, a highlight for me with the song ' Somebody Kill Me.'
Ames sang very well, but I'd like to see more of the front of her face rather than the side profile, also lacks confidence in some of the dialogue, I'd like to see her own the stage for the remainder of the run. Having said that, the onstage chemistry between the two leads was very believable and they were very likeable.
Danielle Segar as Linda the fiancée gave a strong performance and executed a challenging dance routine in the second act, Choreographed by the talented Claire Hennessey.
A promising performance from Daniel Richter as George, who embodied the character with ease and truly became his role for the full evening, adding some lovely comedy elements.
Musical Director Simon Pickup led a live ten piece band, they weren't visual but they played very well, I would've like more volume however I know audience complain when it's too loud so I do understand, I feel however in parts the scenes lacked atmosphere due to sound level.
In general there were a few technical gremlins tonight, in particular the smooth transitions of scene changes. But this can be forgiven as it was the first performance.
The costumes were fantastic, very authentic and I read that they had been created in-house, even more impressive. Also the attention to detail, with the ensemble changing hairstyles and accessories throughout was brilliant.
For those who haven't already seen the show I must warn you of the adult themes and language. I don't recall seeing a warning anywhere, but I'd like to think that it's not the ideal family musical. I would say minimum age 12.
Also a nice touch at the end with a large audience confetti cannon, this could do with being announced as a warning, as some members of the audience will be easily shocked and it won't do them much good.
Overall a very enjoyable evening, and if you get chance go and support the production.
Performances run until Saturday 17th November. https://goo.gl/73ggbF
Reviewer: Rebecca Casey
Reviewed: 13th November 2018
North West End Rating: ★★★★