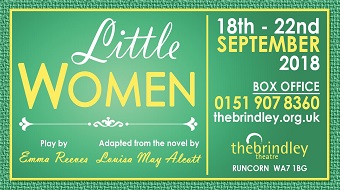 Although I am familiar with the name 'Little Women' as being a famed piece of historic literature, tonight was the first time I have had the opportunity to see this well-known storyline come to life. Centenary Theatre Company have set themselves a challenge with this difficult piece of drama, only to prove, once again that their talent knows no limits when it comes to producing quality amateur theatre.
Tonight's production of 'Little women' is a play based on the American novels written by Louisa May Alcott which were published in 1868 and 1869. Her novels followed the journey of four sisters as they transitioned from childhood into adulthood and was loosely based on the author's own family. The first act of tonight's production followed the four March sisters during their teenage years and it presents themes of poverty, social class and of course, sisterly rivalry. As the story progresses, these young women begin to make serious life choices to marry, go abroad and pursue careers which brings both individual and family challenges.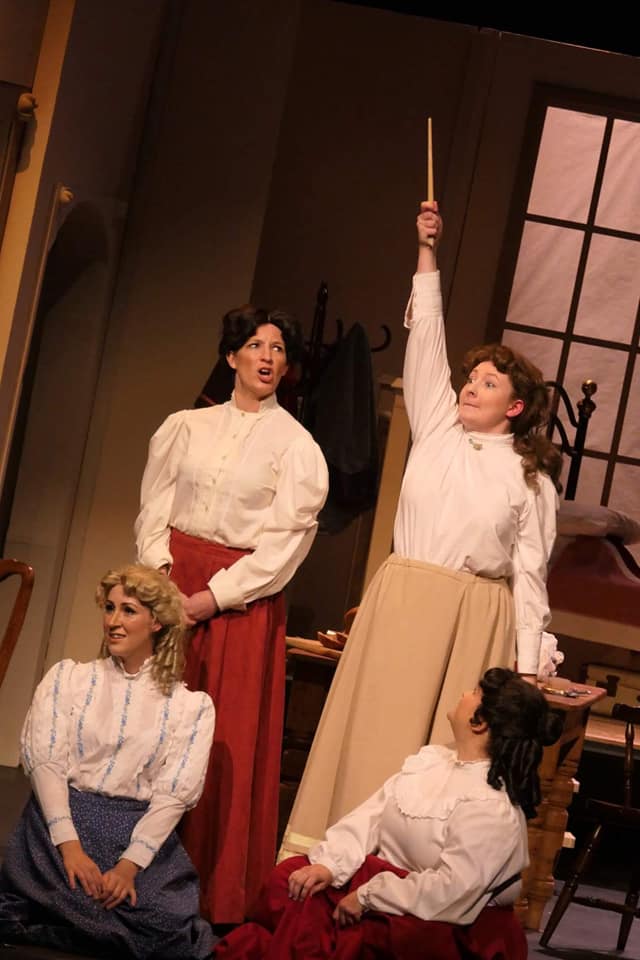 The four sisters featured Robyn Murphy as Jo March whose character grows immensely during this lengthy performance and it was wonderful to watch her acting develop in the same way as her character does. Equally supported by her sisters, Ria Hall as Meg March, Rachael Benfield as Beth March and Maria Ames as Amy March, these four gave depth to their characters which was dynamic, interesting and most impressively – relatable, even to a modern day audience. Sara Worton was beautifully gentle in her character of Mrs March and Kit Phillips was a likable and strong Laurie Laurence. Some much needed humour came from Louisa Herridge as Sallie Gardiner, Marilyn Baxter as Aunt March and Julia Hart as Aunt Carol. With strong performances also coming from the remaining cast, Joseph Novoa Libermann, Mike Nolan, Nathan Reid, Hayley Northey and Westley Clarke, there is no doubt that this company has talent and style.
However the success of this show was also dependant on an excellent production team and Centenary Theatre Company have certainly delivered under the direction of Dan Grimes, with assistant director, Rebecca Gray. Not only is the script complex in its language, but the staging takes meticulous planning and clever directing to ensure the passing of time, the change of locations and the emotional drama are all captured effectively. This was only complimented by the sound and lighting team, who must be applauded for their perfect timing and dynamic effects which brought everything harmoniously together on stage. With costumes and a set that is completely in keeping with the era, the audience are transported back to 19th century to witness this classic tale in true fashion.
I think it is fair to say that storylines like this one, which are dated so far back in history, may require a tailored audience who enjoy period drama. However what is quite striking about 'Little Women' is that although it was written an astonishing 150 years ago, themes of mental health, social classes and feminism are brought forward which are still very relevant to a modern day audience.
Hats off to Centenary Theatre Company who have chosen a brave piece of theatre and in doing so, they are keeping ancient, classic and traditional theatre alive. Although it doesn't have the same vibrancy of a modern day musical or the liveliness of a comedy, 'Little Women' is filled with passion and authenticity that makes it wonderfully different and certainly worth watching. 'Little Women' continues at The Brindley Theatre Runcorn until 22nd of September 2018. For ticket information, please visit for more information please visit https://tickets.thebrindley.org.uk/
Reviewer: Bláthíne Maguire
Reviewed: 18th September 2018
North West End Rating: ★★★★