Opening the 2018 Summer season at Storyhouse is the Sondheim musical A Little Night Music. A story of love, affairs, comedy and regret.
The simple set is transformed from scene to scene using great lighting, designed by Chris Davey, a few pieces of furniture and a rostrum to add another level to the stage.
Unlike previous made by Storyhouse productions, A Little Night Music introduced an eight-piece orchestra in to the fold instead of the cast playing the instruments and it added a new depth to the experience. The orchestra, led by musical director Alex Beetschen, were wonderful, smartly dressed and ever present at the side of the stage.
The opening of the show introduces four characters who are present throughout the piece, a sort of Greek chorus, narrating parts of the show and acting almost like the conscience of the show.
Artistic director Alex Clifton has done a wonderful job of bringing this piece alive and has made some interesting choices with lovely use of staging that make this production stand out and really puts Storyhouse stamp on it.
Yukiko Masui introduced some lovely choreography, especially in the opening waltz where the characters were waltzing alone rather than with a partner which makes you start asking questions from the beginning.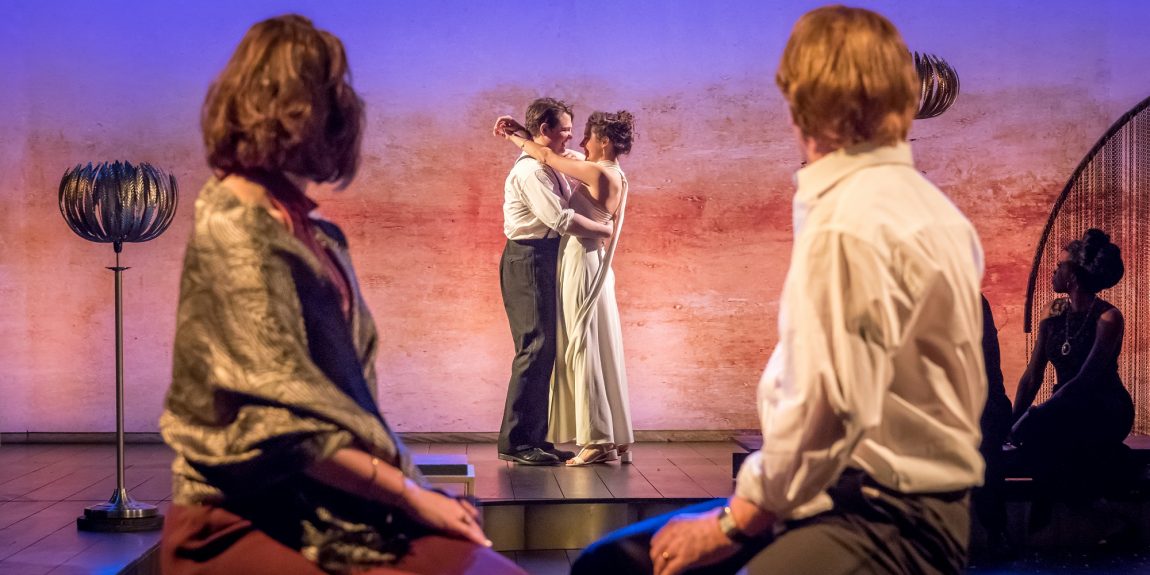 Apart from the songs and music which play a huge part in the show, comedy is very important to refocus parts of the show and a couple of the characters really shone in these parts. Leigh Quinn as Petra was wonderful in the role, with fantastic comedic timing and played an extremely grounded, real character in a world of high class and delusion.
Henrik Egerman played by Richard Lounds delivered a great character with plenty of depth and feeling with some fantastically funny scenes, especially in his opening number "Later" where you got to see a range of emotions and comedy throughout, all while playing the cello. Brilliant.
Storyhouse trainee Actor Megan-Hollie Robertson played a wonderfully naïve Fredrika. Fredrika is told at the start of the show that if you watch hard enough you will see the summer sky smile three times, first for the young, second for the fools and third for the old and so she spends the whole show watching the story and waiting for the sky to smile. The final scene between Fredrika and her grandmother, Madam Armfeldt played by Gay Soper, was a lovely emotional scene where she explained that in fact the night did smile and explained how. It was delivered with such care and attention and answers many questions.
Mary Doherty as Charlotte Malcolm was an absolute joy to watch. Delivering so many emotions from wit to sadness, you followed her story with great ease and when she sang Every Day a Little Death with Anne, it was so emotive, and you felt her pain and sadness throughout.
Sondheim has a unique style of writing and I did find I was lost on many occasions as some of the songs were hard to follow, being either very slow, overlapping or sung at such a speed that it was hard to keep up. I think the comedy scenes really helped on these instances as it brought you back in to the story and focused the audience again.
A standout part for me was Desire singing Send in the Clowns. Serena Evans delivered this beautifully and really drew the audience right in to her soul with every line.
This is a show that needs to be witnessed so go in with an open mind and soak it in. You may learn something new about yourself or others around you.
Until the 8th July https://www.storyhouse.com/event/little-night-music#qI5iDjxYFSJ6HOh7.97
Reviewer: Damian Riverol
Reviewed: 10th May 2018
North West End Rating: ★★★★