A production based on a National Treasure could alas, end up bland, perhaps boring. After all, nobody ever had a bad word to say about the Liverpudlian superstar, apart from a vituperative Lily Savage, who would virtually spit her name out. But just shows, whether in on the joke or not, Paul O'Grady's friend Cilla was a remarkable woman.
Refreshingly, if not warts and all, she is revealed to have the odd blemish, having scotched Bobby Willis' singer/songwriter career for a start. Meanwhile, his sacrifice, giving everything up to focus on looking after her, professionally and personally, goes some way to smoothing over his initial appearance as a cocky upstart (well played, Carl Au), All very interesting, since the Executive Producer is their son, Robert Willis.
Cilla, the nice girl next door, was very ambitious, and never let little things like nerves or uncertainty get in her way. And given the times, fortunate to be dealing with an Epstein not a Weinstein. She would doubtless have dispatched dodgy behaviour with legendary Scouse wit, and was mainly concerned about trailing behind the Beatles, Gerry and the Pacemakers et al, even if her tormented manager did adore her. It is suggested that Cilla's replacing him with Bobby was the final straw.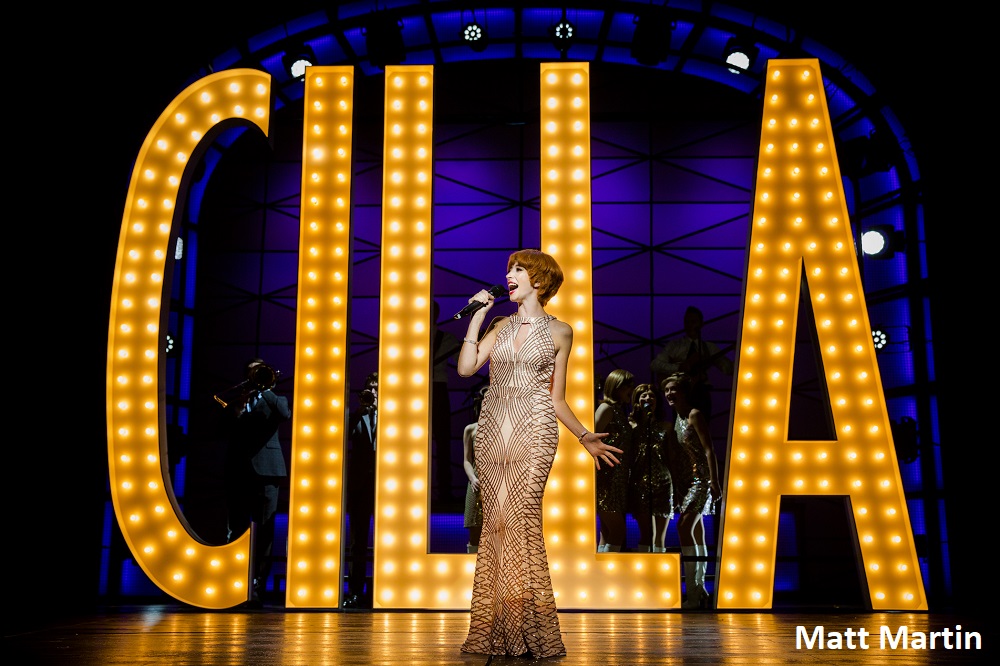 The Epstein story is such a strong sub plot, it has almost equal billing with Cilla's, but a third contender is not such a good idea, suffering somewhat by comparison with the 2014 TV series. Although the fab Sixties are lovingly re-created, the first half is dominated by a stage making the show a lot more static, as much a showcase for tribute bands, albeit all of them first class. The action takes place inside the Cavern with an occasional detour, eg to the living room of Cilla's parents, another stage; they're a double act, all banter and in jokes: Pauline Fleming, delightful as slightly potty, proud Mum and Neil Macdonald (John White) providing much humour with his dry observations.
Although songs from other artists enhance certain scenes, such as Bobby's heartfelt rendition of 'You've Lost That Loving Feeling', and the even more poignant use of 'You've got to hide your love away' illustrating the situation for Cilla, John Lennon, and Epstein himself, a spotlight on the Mamas and the Papas, in dreadful wigs, to give a taste of the Ed Sullivan Show, seemed superfluous. On the other hand, The Big Three earn their place, playing as a band as well as their part in Cilla's career. As do the rivals, dedicated Bobby and complex Brian (an excellent Andrew Lancel). Pat (Billie Hardy) and the gloriously tactless Pauline (Gemma Brodrick-Bower) sparkle as her best friends, along with many a cameo, as it were: Bill Caple, starring as Ringo, Alan Howell as taskmaster Burt Bacharach and Tom Sowinski as George Martin - such a stiff upper lip it's a wonder those exquisitely enunciated words escape his mouth.
But everything is resting on the slender shoulders of Kara Lily Hayworth, who also has to contend with Sheridan Smith's TV version. She has to act her socks off, keep us amused and belt out all those hits – and how well she does, completely endearing as a person and wonderfully professional; the way she sings that first, heart-breaking great hit, almost whispering the anguished line 'What am I to do?', you feel like you're hearing it for the first time.
The whole audience was thrilled to bits by this spectacular production. Yes, it's Chester, over the water from where the Mersey sound was born, but this show could succeed anywhere. And indeed, with anyone who has a heart.
Reviewer: Carole Baldock
Reviewed: 6th March 2018
North West End Rating: ★★★★