It's not often you leave a show aching from laughing and smiling so much from the get go nor is it where you cannot pick your favourite performer as everyone on stage were magnificent and gave an absolutely stellar performance but tonight that is exactly how I felt.
Monty Python's Spamalot is an absolutely genius show.
It's a "new musical loving ripped off from the motion picture – Monty Python and the Holy Grail," where we follow King Arthur on his search for new Knights to join him and in turn all heading off in the search for the Holy Grail.
From the minute the show opened the audience were laughing. The script is very funny and delivered so well by this awesome cast. Spamalot is jam packed with songs, each telling part of a story and move the show along at such a pace, before you know it you're at the interval.
Some of the stand out songs for me were 'The song that goes like this' 'Whatever happened to my part ' 'You won't success in Showbiz' and of course 'Always look on the bright side of life.'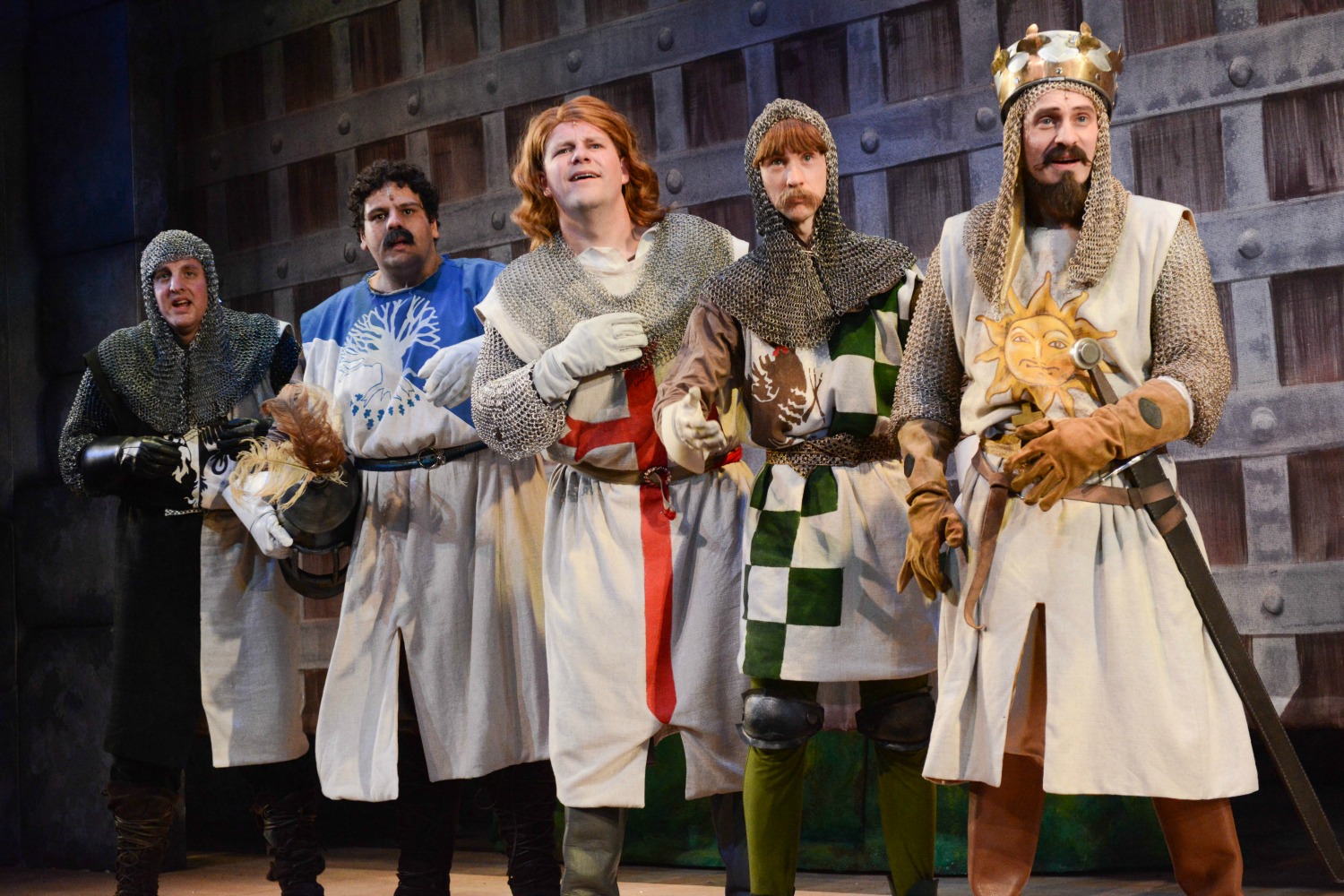 Parts of the dialogue were changed to suit current events and the area the show is in but this is more enticing as an audience and you feel part of the show as they are bringing it to you.
Bob Harms as King Arthur is a hit from the get go, leading the show with his wonderful sidekick, Patsy, played by Rhys Owen. Harms is very likeable as King Arthur and has great wit and a fantastic voice which is showcased throughout, especially so in 'The song that goes like this.'
Patsy doesn't have a lot to say compared to others in the show, but he is vital and Owen did a wonderful job. He was perfect in the role, very funny with fantastic reactions. For me Patsy is the glue that is needed to hold King Arthur together and you see this develop as the show moves along.
Sarah Harlington makes a fabulous Lady of the Lake. Very commanding when on stage and as well as being extremely witty she is a powerhouse of a singer and really captives the audience.
Johnathan Tweedie, Norton James, Stephen Arden and Marc Akinfolarinb make up the Knights of the round table and all have their own stories to tell accompanied by songs and routines, all delivered perfectly and effortlessly.
A stand out scene for me was in the tower of Prince Herbert played by Matthew Pennington. A very funny scene and made even more so by Pennington performance of Herbert.
If I could mention every cast member I would, and I feel each and every one of them delivered one of the most professional, tight, comedic and joyous shows I have witnessed in a very long time.
Director Daniel Buckroyd should be so proud of what he has created and the way his cast has brought this show and the theatre to life. Ashley Nottingham's choreography is perfect. Even the comedy routines were spot on. Every move exact, precise and well executed and extremely well thought out. Well done.
The band led by Dan McDermott sounded fantastic and for such a small band (just the four of them) they made a huge sound.
Costumes for Spamalot were outstanding. Some cast had numerous costumes and thanks to Abbie Pillet and team they all looked phenomenal and changes were slick and quick.
Lighting by David W Kidd was perfection, helping create the right moods and enhancing the wonderful set.
On a winters evening like tonight, Spamalot was the best tonic one could wish for. Two hours of pure joy, song, dance and above all laughter.
Reviewer: Damian Riverol
Reviewed: 31st October 2017
North West End Rating: ★★★★★