From a vision to transform the derelict Odeon into a theatre and cinema five years ago, that vision is now a reality as the Storyhouse opened its doors to the public this week. As you first step through the doors you are reminded how the Odeon used to be then you start to discover what's hidden inside. You soon realise how the building got its name with a cinema, a library threading its way through the building to then come across a huge auditorium, the whole place is full of stories, on screen, book and live theatre.
This evening's performance of The Beggar's Opera was a very different style of musical, being rewritten for the opening of the Storyhouse therefore referencing Chester and the surrounding areas all through. Very well done.
We had a thrust stage so the actors were literally surrounded by the audience. The set was pretty bare except for a few pieces that were carried on and off by cast members but this worked very well. Scene changes were incorporated into the scenes and seemed very natural.
At first you wonder what you are going to watch. Aristocratic characters on stage, bowing to each other but you soon realise this is no ordinary opera, far from it.
The Beggar's Opera was designed to appeal to the widest audience. Instead of aristocrats there were robbers and prostitutes and well know street ballads instead of the normal high art music.
Caolan McCarthy is the first proper character you meet as the Beggar. He sits at the piano to sing us a song but is told he cannot be here, this is a theatre and must leave, but this Beggar was not going to leave as he had a story to tell and he was going to tell it. Mccarthy is fantastic all through, with wonderful vocals and fantastic humour he really helps piece the show together.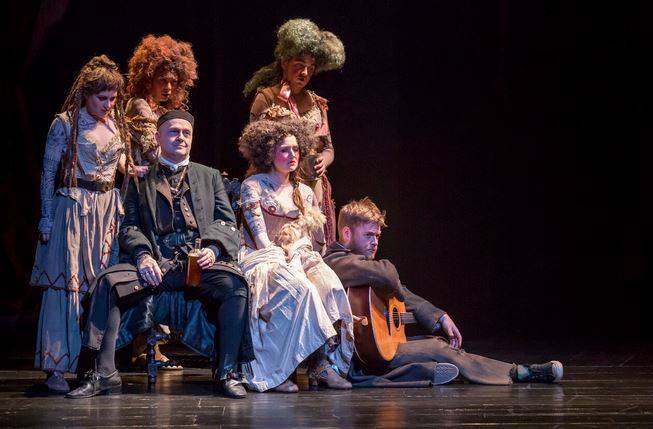 The Peachums run a "lost property retrieval" company who hire people to go out and steal for them.
Peachum is played by Daniel Goode and you don't want to get on the wrong side of as he'd happily beat you or arrange for you to be killed. The was Goode was switch between nice and evil is genius.
Mrs Peachum, Charlotte Gorton, is under the thumb as the wife, turning a blind eye as her husband gies off to "business meetings" with the ladies of the town. Gorton plays three characters in all and is wonderful as each one.
Charlotte Miranda - Smith as Polly Peachum is a joy to watch. Very girly and naive, not quite understanding the world she is being brought up in, she has fallen in love with a captain, Macheath.
Alex Magnaioni delivers a wonderful Macheath, one of the Peachums best workers and knows how to treat the ladies. Magnaioni owns the stage in this role, the character we later discover during a fight scene, is Mack the Knife. He has fantastic charisma and sings with a lot of passion.
Lucy Lockit played by Nancy Sullivan is wonderful. Lucy is the total opposite to Polly and when the two girls discover they both love Macheath they sing a song which lets them both shine vocally. Sullivan is a power house, belting out lyrics and Miranda - Smith so sweet with a beautiful soprano voice.
The first act takes quite a while to get going as it is setting up the story but there is a lot of humour mixed with adult content and sexual reference, something stated when booking tickets.
Act two is a lot more intense, focusing more on Mack the Knife with some very funny scenes and great songs. The show ends as it started with the Beggar concluding his story, singing about everyone having dreams. Did this story really happen or was it all a dream? We'll never know.
The band are on stage the majority of the show and most of them also play characters, something I have found happening more often in musicals, in some instances it doesn't work but on this occasion it certainly does.
This is a whole new experience for me and I'm sure a lot in the audience and I'm glad I was able to witness the talent on stage tonight.
There were a couple of instances when some cast members were not quite lit fully or the stage looked a little too dark but this didn't detract from my enjoyment. The view from my seat in the gallery was pretty good but if you were unfortunate enough to have a tall person in front of you, you may miss small parts of the action.
A huge well done to composer and musical director Harry Blake on bringing a new life to this show and making it current and local. Also to director Alex Clifton in having a fantastic vision and bringing it to life through these wonderful actors.
Try something different, go see something you normally wouldn't normally go for, you may be pleasantly surprised.
Reviewer: Damian Riverol
Reviewed: 13th May 2017
North West End Rating: ★★★★