Great Scott is the latest production by the Gonzo Moose Theatre Company which was established in 2000. According to their website, they specialise in "improvisation, physical theatre and clowning".
Tonight's show was about Captain Scott and "the TRUTH" about what really happened...the 'truth' being that there were aliens at the South Pole who Captain Scott defeated single handed and saved the world.
No literature was provided at the theatre tonight to allow me to know who were playing which roles tonight. However after a bit of digging on the World Wide Web the three performers tonight were Mark Dawson, Alys Torrance and Ben Whitehead. These three performers each play several roles and deserve praise for that aspect alone.
Sadly, the audience outnumbered the cast by only eleven people...so there were fourteen of us in a three hundred seat auditorium. Credit to the performers, they didn't appear to let this phase them and I hope we were appreciative enough for them. (Maybe next time try and avoid notable football match scheduling?!)
On entering the auditorium, we were handed a flyer – it became apparent that the evening's entertainment was to be presented to us by George Cranston (BA) as he was promoting his new book about the truth of Captain Scott's epic journey. Obviously this was all part of the show and the actor playing George Cranston also played the part of Captain Scott and several others.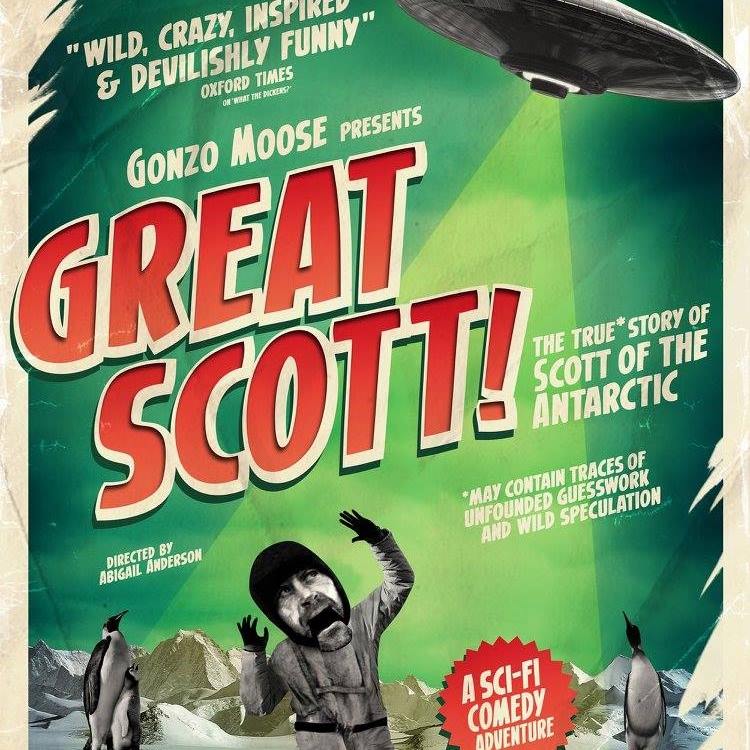 The show begins with George Cranston hosting a conference and informing us that he and his assistants are going to re-enact for us what really happened at the South Pole. I thought it was a really novel way of doing things and gave the show an extra dimension. It was very humorous – George Cranston was a typical over-dramatic presenter, his catchphrase being "Truth...Fact...Truthfact!" (Which I now can't stop saying). His assistants were Wendy and Daryl. Both also played multiple roles but were particularly hilarious as the bumbling, rather geeky assistants to George Cranston. This section was really funny with several repetitive jokes which just became funnier the longer it went on.
There was some improvisation – one audience member being ticked off for texting (quite right too!) but this was done in a good natured way. Mention was made of the venue (Sale Waterside) and a cheeky reference to the low numbers in the audience and that they believed they'd just scraped double figures.
The fourth member of the cast who deserves a mention is the overhead projector used as one of the props. I actually can't believe they still exist in
this technological day and age (the last time I saw one was at school in the 80's). This prop was used very imaginatively, providing a hilarious backdrop to some of the narrative. If I say that a singing penguin (Alys) with an egg attached to its feet sang a song about "A Penguin's Dream of Flying" while having a kaleidoscope pattern of hearts and a flock of flying penguins projected behind it, you may start to get the drift of just how insane and random but very clever this show is.
There are lots of little humorous details and repetitive humour which make it really funny. Scott writes several diary entries and always ends them with "I've written a poem to express my feelings" and then starts to recite the first line of a well known song, such as "Help" or "Bohemian Rhapsody" but always gets interrupted. One very funny scene was when Simon Johnson was ski-ing. This was brilliant physical comedy to the soundtrack of Ski Sunday and was so well done, I wanted to watch it for longer.
Every so often, George Cranston would resurface and ask us if we had any questions. No-one did, but I have no doubt that if someone had asked a question, the cast would have fielded it excellently.
The set was quite simple and the props were used very imaginatively. My particular favourite was bubble wrap which was used as pustulating fungus. Yes really. What do you do with bubble wrap...? You pop it! Just like a pustule!
The three actors are absolutely fantastic and extremely talented. They are very versatile and each character they played was instantly recognisable, despite the fact that they sometimes switched very rapidly between each one. There were no mistakes and no lines were fluffed, it was total professionalism from start to finish. As well as coping with the multiple roles, they also had to set up the various props and again, this showed great use of imagination. A rather brilliant tent was produced very quickly by using some poles, packing cases and a sheet and a scary alien was produced with some plastic sheeting, a long pole and a rucksack.
The subject matter was a bit offbeat and random but the whole show had tremendous zany energy, imagination and humour and was really enjoyable. I'll never look at Bubble Wrap in the same way again.
Reviewed: 21st May 2016
Reviewer: Nicky Lambert