Cell is an ingenious production that raises awareness of motor neurone disease. Motor neurone disease (MND) is a devastating and fatal disease that can affect any adult at any time, yet few people really understand what it is or what it does. MND attacks the nerve cells (motor neurones) that send messages from the brain to the muscles. As these motor neurones die, the muscles stop working. In the UK alone, some 5,000 people are living with the disease at any one time. Life expectancy is just two to five years. The cause is unknown and there is no cure.
Cell was created as a collaboration between two fantastic UK companies 'Smoking Apples' and 'Dogfish'. Two out of tonight's three cast members had lost their grandfathers to the disease, making the subject of MND close to their hearts, which truly shone through as they presented this stunning piece of theatre.
Ted was the star performer; a puppet made from simple neutral coloured materials, sporting only a simple pair of black spectacles.
After being diagnosed with motor neurone disease Ted, an avid stamp collector, embarks on the trip of a life time, along with his companion…. a pet fish. As the motor neurone disease starts to cause Ted's mobility to degenerate, Ted hurries towards experiencing a world that is outside of his comfort zone. From the streets of Lille to the romance of Venice we see Ted blossom with the new experiences even finding love along the way.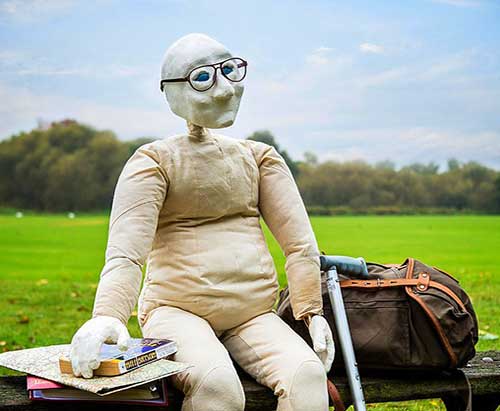 This captivating performance is a mix of physical theatre, traditional puppetry and shadow/silhouette puppeteering. William Aubrey Jones, Molly Freeman and Mathew Lloyd are three very talented puppeteers who transformed the lifeless puppet into an animated adorable lifelike character. Sensational in its believability as the manipulation of the puppet almost made me believe this was a living breathing human being, a true testimony of how talented these young puppeteers are. With an almost silent performance using music and sound only to express events, thoughts and feelings, tonight's performance took the audience through a range of emotions. As we watched Ted experience the journey from early symptoms of MND (shaking, tripping, dizziness and dropping), investigations, diagnosis to disease progression resulting in him no longer being able to speak, stand or move. This very difficult subject material was delivered with absolutely just the right amount of humour as well as seriousness. Inspiringly the message from this production was not one of doom and gloom but always one of positivity. Ending the show with Ted being completely wheelchair bound and unable to speak, however with the assistance of a computer generated voice aid Ted left the audience with his final words…..stating "I am living with MND not dying from it... Poignant and perfectly pitched.
This heart-warming production was definitely worth seeing and tonight show impressively brought to life the effects of this devastating disease. The scene using torches to demonstrate the degeneration of the neurones and the effects on movement using torches was brilliant and ingenious.
Cell continues to tour travelling next to Leeds and then to Germany, more information can be found at www.cell-show.co.uk
Reviewer: Victoria Wilmot
Reviewed: 19th May 2016