A James Seabright presentation of Superbolt Theatre Company's production of Dinosaur Park roared onto the stage at the Quays Theatre this evening. Superbolt Theatre is a multi-award winning international theatre group.
The company consists of 3 Artistic Directors:-
Maria Askew is a bright lady who has co-written and performed in all of the company's work to date. Maria studied at the University of Warwick where she gained a first class degree. Before moving on to Jacques Lecoq International Theatre School in Paris where she studied for two years. And upon her graduation co-founded Superbolt Theatre. Maria stars in the production as Jade Park, a stroppy teenager.
Frode Gjerløw plays Terry Park the father of Jade. Frode trained in Norway in classical theatre and began acting at Det Norske Teatret in Oslo in 2001.He also trained at Jacques Lecoq Theatre School in Paris and co-founded Superbolt, and has also performed and been co-author of all of the productions to date. Finally we have Simon Maeder who is the hilarious Noah Park. Simon studied English at The University of York before moving on to train at Jacques Lecoq Theatre School in Paris and then co-founded Superbolt Theatre following his graduation. Simon's work on YouTube with Will Tribble has been viewed by over 200k people.
As the mainly adult audience await the theatre doors to close Maria, Frode and Simon mingle with the audience and you can't help but be bowled over by the excitable Simon. As the doors close the cast jump up onto the stage and Simon introduces himself as Noah Park and welcomes everyone to Lyme Regis Community Centre. He then tells us that tonight is the 1 year memorial to his late mother Madeline and we will be watching Jurassic Park. Terry reminds everyone that we have to be out of the community centre by 10 o'clock as then they get a discount if everyone is out by 10.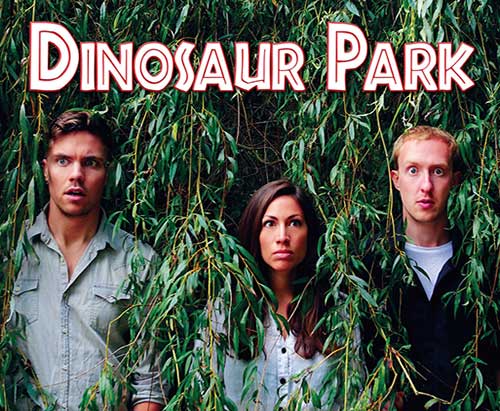 The show moves back and forth between the current night and a week ago. With the transition very clever slow motion movement by the actors. Panic sets in when Terry realises that the video tape is missing from the box. There are then amazing laughs and fantastic acting as the story switches back and forth from the family story to the story of Spielberg's iconic movie. With all characters played out by the fantastically talented cast.
The story is helped to flow seamlessly with strong lighting and sound effects and music that are provided by Ina Berggren. Ina acts as the production manager. Ina is a freelance stage and production manager originating from Sweden, where she started her career. Moving to London in 2008 she also is a theatre technician and attended Drama College in Sweden where she focused on Stage and Lighting.
After around 40 minutes we have a 15 minute interval and as we await all audience members to take their seats Maria, Frode and Simon again mingle with those back in their seats.
The second half of the show starts with the earlier promised few words the family have written about Madeline. With a well performed song to the tune of Gangsters Paradise by Jade. During the second half of the show there is some strobe lighting effects. Some fun dance moves are also on display during this part of the show and we come face to face with a DIY T-Rex. There is also some slight audience participation in this section of the show.
The whole show is packed with vibrant energy and laughs. It is listed as being a PG show and not suitable for those under 8. I think the reason for this is the use of some moderate bad language, however I took along my 9 year old son and did not find the language to be an issue. My son laughed at many of the jokes and was glued to the stage throughout. His only disappointment was there were no dinosaurs, although I did not feel this to be an issue. I would highly recommend this show to anyone who remembers or loved the original Jurassic Park as it is the funniest parody I have seen in a long time.
For anyone wanting to know more about the show or Superbolt Theatre in general they can be followed on Twitter, Facebook or their website www.superbolttheatre.com where you can find a full listing of the tour venues for this side splitting take on Spielberg's movie Jurassic Park. The tour runs till 21st August where it ends in Devon.
This is also a theatre company that I will be watching for coming back to The North West as if this show is anything to go by their other shows will be well worth a watch.
Reviewer: Cory Coxon
Reviewed: 17th May 2016