No scenery, no fancy lighting and only forty minutes long...yet this is one of the most exhilarating theatrical experiences I have ever had.
Tipping Point is a play about five phobic people having their regular "Phobics Anonymous" meeting. From the outset there is humour from Mr Smith (Adrian Horne), the rather grumpy caretaker who takes great delight in misaligning all the chairs which Steve (Kris Hitchen) has carefully lined up, courtesy of his OCD. No words are spoken between them, yet there is great humour and physical comedy and after this, I knew that whatever was coming, it was going to be good.
The group offers all the members the opportunity to 'share' and they each talk about how they are feeling today and what their phobias are. It becomes apparent that all of them, except one, are not being truthful about the real reason why they are there but we are let in on the secret as each of them gets their turn in the spotlight when their innermost thoughts and secrets are shared just with us. The common theme here is that none of them (except one) are being honest with their fellow group members and they feel guilty "because they all seem so honest". This line is spoken by all of them and signifies the end of the thought sequence and then we are back in the midst of the meeting. Simple but effective use of a spotlight signifies the change in what is being presented to us and the tone completely alters during each of these scenes. It is extremely well done. When each person is being honest with us, the humour is gone and they get to tell their sad story. It is really quite moving and the quality of the acting was superb – I saw genuine tears from several of the actors, it was gritty and real and fantastic to watch.
There is a great deal of humour in this play and the interaction between the actors is amazing. You could actually believe you were sitting in on a "Phobics Anonymous" meeting (I was almost tempted to join them and discuss my negative feelings about balloons but I resisted the urge!) The dialogue is real and very convincing, there is no clumsy exposition and it is all just so believable, whilst at the same time being extremely entertaining and compelling. I really wanted to know about the characters and find out their stories.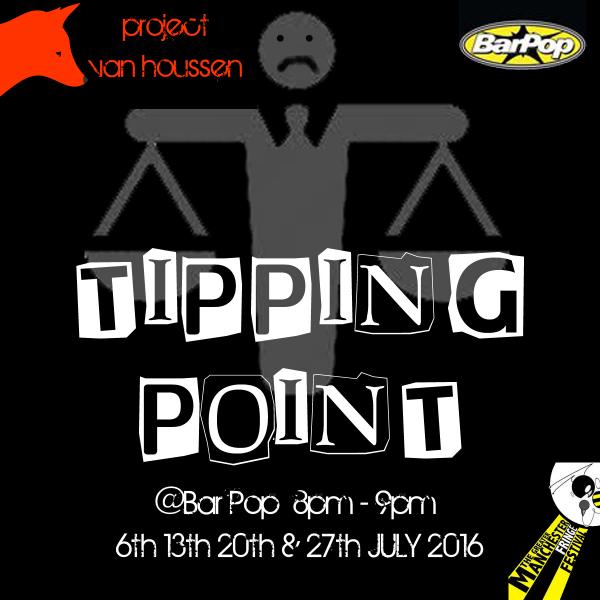 The characters are all very likeable and immediate. We meet Mary (Simone Holmes), who has never revealed what her phobia is; Dominic (Gavin Johnson), who is forced to lead a double life; Tim (Colin Titley), who has a crippling stammer and screams every time someone swears; Jean (Kimberly Whitley), the 'newbie' of the group, with a phobia of germs and Steve, the group facilitator, who has severe OCD.
The end of the play sees one of the characters revealing why they have their particular problem. This is possibly the most tragic tale so far and is very emotional. Without revealing which character it is, I will just say that this person's acting was magnificent. This scene is juxtapositioned very skilfully with the hilarious finale when Mary's phobia is finally revealed...and it comes as much of a surprise to her as the rest of us.
All of the actors were outstanding and the casting was perfect. I can't really praise them highly enough. This is what real, grass roots theatre is about – no gimmicks, no fancy promotion, just going to see something really good and having a great experience. It was a joy to watch and it really suited the venue of the King's Arms. This is a very small theatre but it was overflowing tonight. The intimate and earthy venue worked brilliantly for this play but I would also like it to be performed in a larger venue so that more people could get to see it as it really deserves to be seen!
So much was packed into the forty minutes. Five characters each got to tell their story but there was no feeling of it being rushed and crammed together. Every line mattered and there was no wasted time and no 'filler' lines. I wish it had been longer as I didn't want it to end.
The writer, David Howell, is to be congratulated for his wonderful writing and staging of this play. This is writing at its best: unpretentious and real, whilst being extremely entertaining. Although there is great tragedy, it doesn't leave you feeling depressed because it is adeptly offset by the humour.
It left me wanting more and I will definitely be first in line for David Howell's next production.
(Tipping Point is being performed as part of the Manchester Fringe Festival on 6th, 13th, 20th and 27th July at Bar Pop, Canal Street)
Reviewed: 12th May 2016
Reviewer: Nicky Lambert