Week 53 at the Lowry Theatre hosted the last resort by 2Magpies Theatre.
Week 53 is about innovative, provocative national and international work presented in a series of spaces including areas of the building normally off-limits to the public. It's about rewarding the compulsively curious as they challenge convention and celebrate creativity.
The theatre was set at the back of the Lowry Theatre in the loading bay facing the docks, the audience was greeted by a beach hut scene of yellow and green a beach bar had been created with all the essentials of a tropical holiday.
Once the show was ready to commence the staff took everyone to the designated area through a series of corridors and stairs making it all very disorientating to where we were going until we finally reached a darkened room with low lighting. The room was filled with red deckchairs neatly placed in circles around an upside down orange bucket in the centre. Every deckchair had a sandbag placed in front of it for the audience to experience the sand between their toes if they wished to do so whilst soft music played in the distance. The audience was served Cuba Leva – a Cuban rum cocktail by their hosts Tom and Eve who promised to look after their guest.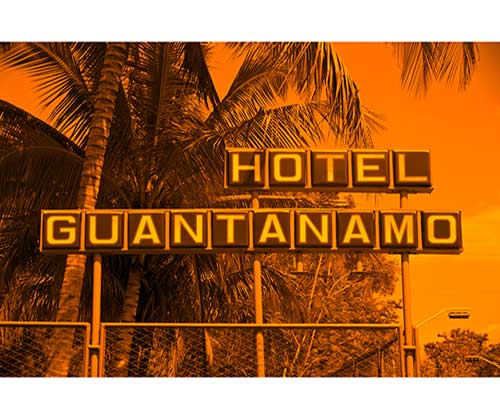 (Tom) Tom Barnes is the director of 2Magpies Theatre and has a Masters degree in international security and terrorism. (Eve) Eve Parmiter has an undergraduate degree in International relations and Masters in gender studies. She is a professionally trained actress and has worked with the British military for five years using forum theatre as a training tool, she is also a qualified cognitive hypnotherapist and NLP practitioner.
Tom starts with a guided tour of Hotel Guantanamo with facts and figures of the islands history mixing present day and the past. The audience was given an insight to the Guantanamo Bay detention camp, the detainees, the interrogation, the laws and techniques used. Last resort imagines a future for Guantanamo Bay as a holiday resort where the waterboarding has stopped but the use of these psychological techniques has not. The audience is encouraged by Eve on a journey of meditation, as the room goes completely dark Eve uses her hypnotherapy skills to take you through some harrowing visual imagery.
This multi-sensory performance about the detention of terror suspects and the use of enhanced interrogation techniques, took the audience through games like 'One more drink' starting off light-hearted moving to more sinister scenes of waterboarding, the use of stress positions, a disco scene of music and noise, sight deprivation, disruption of food and sleep deprivation. The scenes were unsettling and as an audience member felt uneasy watching the sinister turns and scenes of interrogation.
This production was certainly a challenge to convention, an experience I have never encountered before, I felt disorientated, trapped and vulnerable as the scenes unfolded.
Well done for the impact factor of these two talented individuals, the whole production was obviously well researched and every detail was thought out carefully. The audience was given a taste of enhanced interrogation techniques and the treatment of detainees and terror suspects, you can find out more information at:
Amnesty International: https://www.amnesty.org.uk
Reprieve: http://www.reprieve.org.uk
Freedom from Torture: https://www.freedomfromtorture.org
Reviewer: Katie Leicester
Reviewed: 6th May 2016