A show not quite a concert, not quite a play, but more like poetry, last night returned to its spiritual home, the Liverpool Epstein Theatre.
Lennon Through a Glass Onion has enjoyed success off Broadway in New York and now celebrates the music of legendary John Lennon in his hometown.
The curtain rises: on stage is a baby grand piano and an illuminated guitar. Under a single spotlight Stewart D'Arrietta sits down and begins to play a hauntingly beautiful succession of notes that eventually morph into that 'Liverpool Lullaby.' Then Daniel Taylor, 'Lennon', emerges. Dressed in jeans and a faded denim jacket, the instantly recognisable round glasses and mop top complete the look. In previous shows, Lennon has been portrayed by John Waters, who did not usually attempt an impersonation of Lennon, rather only an approximation of the voice, and a commitment to a sort of (auto) biography. Here, Daniel completes the illusion: presumably this Lennon thought rounding off the fantasy would be more visually inspire the Liverpool people. The mood in the room certainly seemed impressed, but any audience must remember to suspend their sense of reality just a little and fully immerse themselves into the performance.
In character he begins with a tale that follows the life of Lennon, in what seems like his own words, first describing the New York winter of 1980 and a fan waiting 5 hours to get a glimpse of him. Then the room is shocked into silence by the sound of gunshots.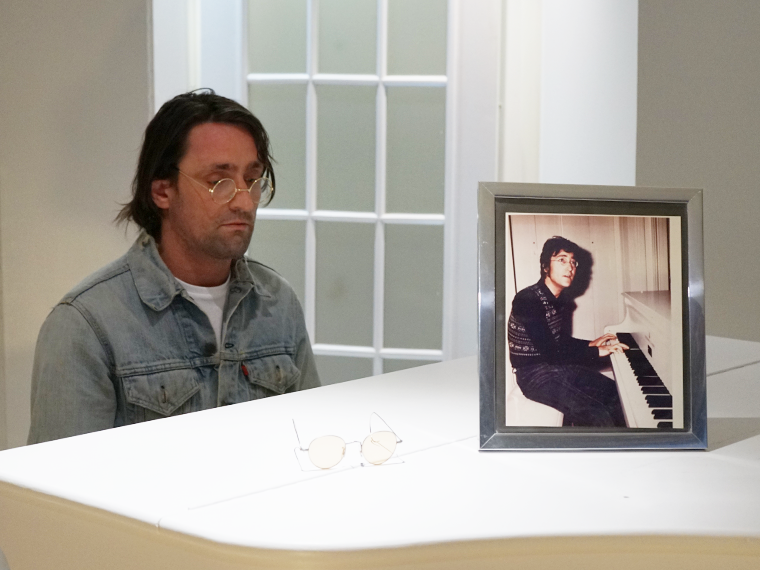 He covers so much, attempting to explain in word and in song, what 'He' meant, the 'truth.' Starts with his days as a teenager, when he "always had to ruin everything" just to "stay centre of attention." He addresses rivalry with Paul McCartney ("He was way advanced musically… and he was only 15; the bastard"), his rise to fame and suddenly being accountable for all the implied meanings in every song ("people seem to want to make you responsible… some of the explanations these 'experts' make up with were so much more bent than what I meant!"), to becoming a sort of poster boy for 'peace' ("Send an acorn to every world leader to plant for peace! …It's pathetic, but everyone's talking about it"). Then, visiting the Maharishi Ashram ("I would've gotten on with the yogi if he'd not tried to get off with all the girls… though he was more relatable after that") to the breakup and the collective resentment of Yoko ("British Anglo-Saxon racism"). The music he covers is extensive and puts the songs into context in a way that's respectful to their origins. D'Arrietta is more that an accompanist and brings life to Waters' soliloquising, doing the voices of all who interacted with him. The audience also manages to forget that all of these Lennon and Lennon/McCartney covers are being performed with only a piano and a guitar, such is the presence of D'Arrietta, and the seamless storytelling. The pair also explore the darker depths of Lennon's music that set it apart from McCartney's: "A Day in the Life", "Glass Onion", Working Class Hero" and "Help!" played much slower than we're used to hearing it, giving it an eerie desperation. Fans didn't seem to care that the blackest corners of Lennon's mind were left alone though- no "Cold Turkey" on the menu.
This show has been performed the world over since 1992, but still seemed to engage a wonderful newness. It was met with a full standing ovation at the Epstein, with some parents dragging up their teenagers and others getting left behind completely as the young ones brought the house down with a renewed vigour and interest. I left feeling as if I had learned something about the man as a human being. So much history is broadcast within 90 minutes by a performer who portrays Lennon as refreshing, plain-spoken, and someone you'd love to have a drink with. The two creators were certainly inspired when they sat down and thought, "What must Lennon have been thinking then?" and formulated it so precisely. I'd love to know what process that was. A stirring show.
Reviewer: Natalie Romero
Reviewed: 18th April 2016