Hope Mill is in New Islington, just north of Piccadilly, central Manchester. Once it was a hinterland of warehouses and canals, now the warehouses have been converted into luxury flats. Unable to find the mill we were directed by a passer-by "right back the way you've come, across the tram tracks and past the dodgy looking pub". It didn't sound too promising. However, this turned out to be one of Ancoats best kept secrets, because Hope Mill Theatre is a cosy and quirky delight. The bar area is all bare bricks and subdued lighting; gilt edged mirrors and candelabras give it a theatrical feel and it is thankfully unpretentious. The mill is a Grade 2 listed building, a former cotton mill. A sign at the theatre door warns that the auditorium can be cold, so there is a basket of blankets if needed. The theatre is small, I'd call it a studio theatre, and seats around a hundred. It has good acoustics and a great deal of atmosphere.
An impressive Facebook campaign has repeatedly whetted the appetite of the audience for The Haunting of Blaine Manor and constantly reminded us that during the performance we must repeat to ourselves that "It's only a play. It's only a play."
An eerie musical score immediately makes us on edge. It is 1953. Blaine Manor is reputed to be the most haunted building in England. It is a stormy night and the visitors to the manor are cut off. The constant rain soundtrack is very effective... I thought it was real rain battering the theatre roof... This really helped to build the atmosphere
Also, the lighting was very well used to create mood and shadows and puncture moments of excitement and drama.
The stage is simply but effectively adorned with plush furniture, a chaise longue and several period chairs, and one of those globe slash drinks cabinets that I'd love if my flat was bigger.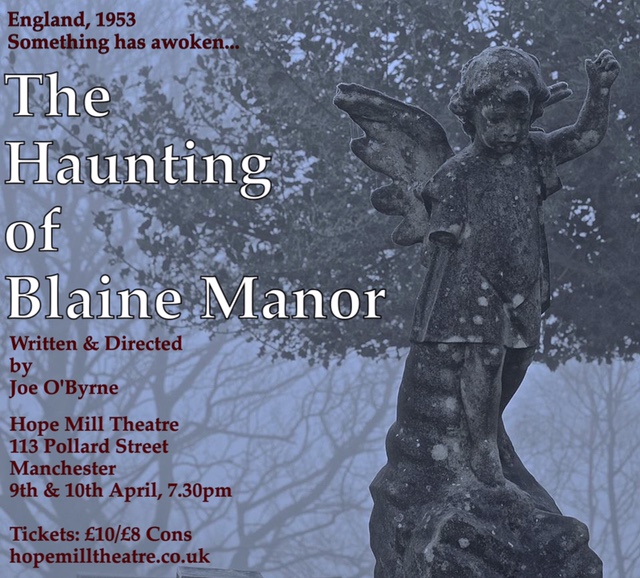 Roy Earle (Peter Slater) is a visiting American sceptic, who exposes fake mediums. He joins the house guests at Blaine Manor where a séance is to be held. At first the accent annoyed me somewhat... but after the initial annoyance subsided and I realised it was actually very convincing. Andrew Yates plays over the top camp medium, Cairo, in an over the top and camp way, which is quite amusing. Jo Haydock plays the only female/scarlet woman, Vivian. Ian Curley gives a very commanding performance as another medium Scarabus. Daniel Thackeray plays quietly convincing custodian of the manor, Vincent, and finally Joe O'Byre, the playwright, plays the butler, Grady.
It quickly becomes apparent that Grady is dead, a ghost, but a charming and not at all frightening ghost, who only Roy Earle can see. O'Byre is a very compelling and charismatic actor; he manages to inbue his words with the servile tone of a butler, but also there is a mocking and accusatory edge, which is very well done. It turns out there is something very sinister about the apparent suicide of Roy Earle's wife and something very dark is about to unfold... I must confess, I felt the ending to Act One was a rather low key affair really, but all the pieces are in place for an exciting and entertaining Act Two.
The second act was much tighter and pacier; there are several very amusing moments of dialogue and it actually becomes very tense, and I suppose if you were of a nervous disposition it could be quite frightening, especially the sounds of tortured souls screaming and crying... very unsettling.
One of the highlights for me was watching the actors when they weren't in the limelight, using the set, remaining totally in character and using their bodies and faces to convey their feelings when they have no dialogue, which I thought was very well executed and the mark of true professionals.
I purposely haven't said much about the plot - it's a ghost story, and ghost stories are usually packed full of clichés and usually end in a very unsatisfactory manner - but this has a twist that I really didn't see coming. It was a total surprise and provided an excellent and satisfying ending.
This has been a really memorable night. The story is good, the acting very good and the unusual and quirky little theatre also helped to make this very special. In no way was this medium; it was top notch.
Reviewer: John Wood
Reviewed: 9th April 2016