Oscar Wilde's only novel endured an awful reception on its release in terms of both reviews and sales. Condemned for its immorality and with the ongoing threat of prosecution, with focus on its content rather than message, it was not until many years after his death that it was recognised as a classic. It tells the story of a beautiful and innocent young man's seduction, moral corruption and eventual downfall as he sells his soul for eternal youth.
In Neil Bartlett's adaptation, we meet the three main characters at the start when painter Basil Hallward (Stephen Tyler-Parke) and his friend, Lord Henry Wotton (Isham R Redford) are discussing the subject of Basil's new painting, a young man who is all things perfection - innocent, virtuous and beautiful. Basil wants to keep the identity secret as he is concerned about Henry's hedonistic influences but the arrival of the young man, Dorian Grey (Rory Kelly), puts paid to all of that as Lord Henry changes Dorian's perspective on the world and he begins to see life as a succession of pleasures to be enjoyed where the fine line between good and evil need not get in the way. When Dorian receives his portrait from Basil he hopes for the painted image to age instead of himself and a Faustian pact ensues whilst servants Francis (Peter Harris) and Mrs Leaf (Susan Reeve) look on.
A perfect character interlude allows for some classic Wilde interplay as Lady Victoria Wotton (Vicky Lodge), Lady Carlisle (Amanda Lancaster) and Lady Narborough (Sandra Tschackert) try to out-bitch each other in the first of a few scenes together including their impressive later portrayal as ladies of the night. It also brings a newly enlightened Dorian back in to play, keen to explore his newfound sensuality as he he meets a young and beautiful actress, Sybil Vane (Lydia Jones), with whom he manages to fall in love and to court with the tacit approval of her mother, Mrs Vane (Susan Reeve), despite the suspicions of her brother, James Vane (George Jones). Any appearance of the perfect love story is dashed as Sybil's love for Dorian sees her revoke her acting talent, which was in fact the thing that he had most desired, and he rejects her. Upon his return home he notices a crueler appearance to his portrait and realising his error decides to recant but the arrival of Lord Henry serves not only to inform him of Sybil's suicide but to reinforce his new behaviour as being the right way in the first of many pertinent parallels to the modern day.
The hidden portrait is cleverly reflected by the chorus of cast members, doubling up when not in the scene, and works well as the audience can imagine the tormenting voices in Dorian's head as the devil on one side takes on an angel on the other: the powerful chanting and stares from chorus members certainly sent a shiver down my spine on more than one occasion.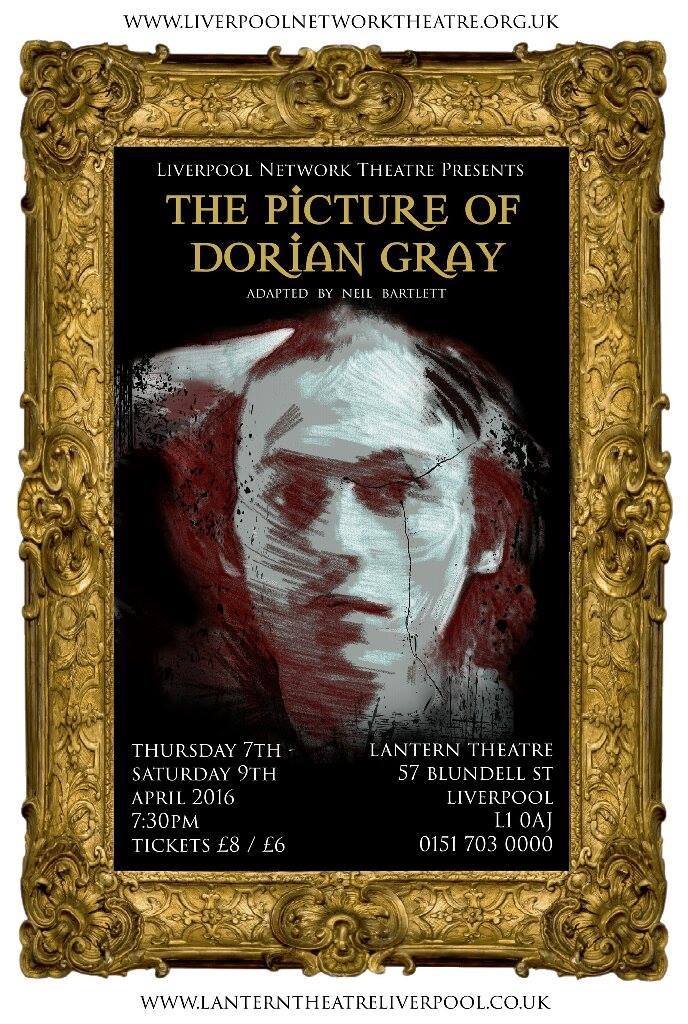 The pace of the story is cleverly moved along through regular character monologues which allows us to see different perspectives on Dorian's change and perfectly epitomising the current obsession with 'reality TV'. As we come to the conclusion of Act One, Dorian, now served on by Victor (Toby Hall), meets Basil again and we see the contrast between Basil's pure and innocent love for Dorian, and Dorian's self-interested and debauched approach to life with a wonderfully frenzied performance from Kelly. Again modern day parallels persist as we consider the importance of manners over morals: Panama papers anyone?
There was a real buzz in the interval in anticipation of the second half with audience members openly debating the different characters and their rights and wrongs - you know then that a play has really hit home.
Act Two opens some 25 years on and much credit to Terri Langley for the superb make-up as all the cast had aged with the exception of course of the young Dorian who is having to face up to the ever-present scandal that surrounds him with some chilling performances from Kelly as he realises that pleasure does not equate to happiness following a confrontation with Basil and the blackmail of an old friend, Alan Campbell (Toby Hall). Dorian gains some respite following a narrow escape from the vengeance of James Vane but his untimely death forces Dorian to re-assess his behaviour.
Redford provides a superb turn as an aging Lord Henry who despite his years remains keen to see Dorian carry on in the same vein, particularly with Lady Monmouth (Lydia Jones) and questions whether his motives for reform are sincere or merely curiosity: an examination of the aging portrait, through the wonderful chorus again, proves the latter. Dorian is now at a crossroads and the tumultuous closing scene does credit to the whole cast - but no plot spoilers here I'm afraid!
I spoke with the Director, Elaine Louise Stewart, before the play and she confessed to some understandable opening night nerves but both her and Production Manager Uma Ramanathan have much to be proud of with this outstanding performance. A simple set containing a veiled portrait to the rear, a sofa to stage right and a table and chairs stage left allowed each scene and location to be captured perfectly and the acting to come to the fore: less was indeed more. Rowan Dyer's musical pieces created the perfect atmosphere and build-up within and between scenes. As noted there is obvious credit to Kelly and Redford for their performances but I would like to make special mention of Reeve in both her roles and as a chorus member.
So, unlike Dorian I was left pleased AND happy as were other audience members as we discussed, many of us strangers, how good this had been as we left. But it does leave me with a conundrum: this is a production that deserves to be seen by many so I hope either a continuation of the run at the Lantern Theatre can be arranged and/or the production is rolled out at other venues.
Liverpool Network Theatre Group was set up in 1984, born out of the idea of theatre as a political force, with the power to change society for the better. Currently, the group stages three productions per year. Further details on the group including upcoming productions, rehearsals and workshops can be found on their website www.liverpoolnetworktheatre.org.uk
Lantern Theatre Liverpool is an intimate, family run venue, nestled in the heart of Liverpool's creative playground that makes it the perfect location for unique, ground-breaking theatre. Details of this and upcoming productions are available on the website.
The Picture of Dorian Gray plays at The Lantern Theatre through to Saturday 9th April. Bookings can be made by telephone 0151 703 0000 or via the website www.lanterntheatreliverpool.co.uk
Reviewer: Mark Davoren
Reviewed: 7th April 2016