Good theatre transports you to a different time and place and at The Grand in Blackpool, Let It Be brought the older generation back to their teenage years and gave their grandchildren the experience of their youth.
Let It Be it the musical story we all know. The history of The Beatles and the soundtrack to our lives. You are taken through each Beatles album playing the iconic music and all the favourites. You are taken from The Cavern to their Royal Variety Performance, to America and finally Abbey Road.
The scene was set in black and white with two giant vintage television screens showing the TV ads and news reels of the 1960s. These mixed real footage of the eras with the Let It Be Fab Four to give authenticity. As they moved to the big stadium gig, the visual effects mixed with the lighting and the change in sound levels really made you feel like you were in a stadium rather than the Grand in Blackpool. They cleverly mixed the live vocals with screams from the crowd to give it that stadium atmosphere and gave a taste of the hysteria, which the original four experienced.
Even a technical glitch after the first scene failed to break the magic of the night.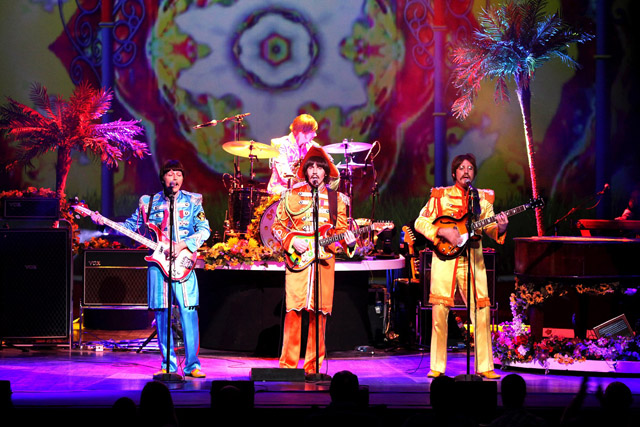 As they moved through the years, the actors became more like The Beatles and captured their essence and onstage personalities well. Paul Canning has both the look and the sound of John Lennon and has mastered the art of chewing gum and singing at the same time. Emanuele Angeletti definitely has a Paul McCartney charm about him and he has even mastered playing the bass guitar left handed. Paul Mannion, playing George Harrison, played amazingly and did a fantastic rendition of Eric Clapton's guitar solo in "While My Guitar Gently Weeps" which left the audience on their feet cheering.
The visual effects and graphics added to the atmosphere of each album and really brought to the stage the mood of each album and showed just how distinct each Beatles album is.
There was a special tribute to George Martin and made humorous references to the future of each musician after The Beatles.
From the 64 year woman in front to the 4 year old girl beside us, the music had the same impact, making them stand up and dance. This wasn't just a theatre show, this was a musical history experience.
Even after playing three encores, the audience was reluctant to leave. With every time they left the stage, the crowd was chanting for more and when it seemed that Hey Jude wasn't going to be played, some audience members started singing it whilst we waited for the final encore. It was a truly passionate audience whos love for The Beatles united them as one.
And Stuart Wilkinson, who played Ringo Starr, was a better drummer than the original Beatle!
Reviewed on: 28th March 2016
Reviewed by: Katie Chesworth