Broken Leg Theatre performed its company's third production tonight at the Lowry theatre. Three generations of women written by Anna Jefferson and Alice Trueman, directed by Ria Parry and produced by Becky Smith and Laura Sedgwick is a powerful story of three generations of women and their individual struggles through their times. Elsie (Gilly Daniels) born in 1936 to a hardworking Irish mother. Gilly (Moir Leslie, young Gilly played by Nicola Harrison) sexually liberated in the 70s after leaving the close nit Yorkshire village to be a university student in Leeds studying French, and then Frankie (Nicola Harrison) a single childless woman in the 90s who finds herself living back home with her mother Gilly who has terminal lymphoma and supported by her lifelong best friend Maya (Emily Spetch).
Performed in the intimate studio space at the Lowry these four outstanding actresses delivered a story that was cleverly written, connecting them in a captivating entanglement of life stories, shadowed by hidden secrets that crescendo into an emotional concluding scene.
The show opened (and ended) with a plethora of 'best advice' from mothers, setting the scene for the focus of mothers and daughters and the emotional and psychological links women have and are connected by, in their gender, relationships and strong friendships.
Performed on a simple stage that ingeniously used an array of cardboard boxes, white string bound chairs and a table to transform each scene by arrangement, was stunningly effective.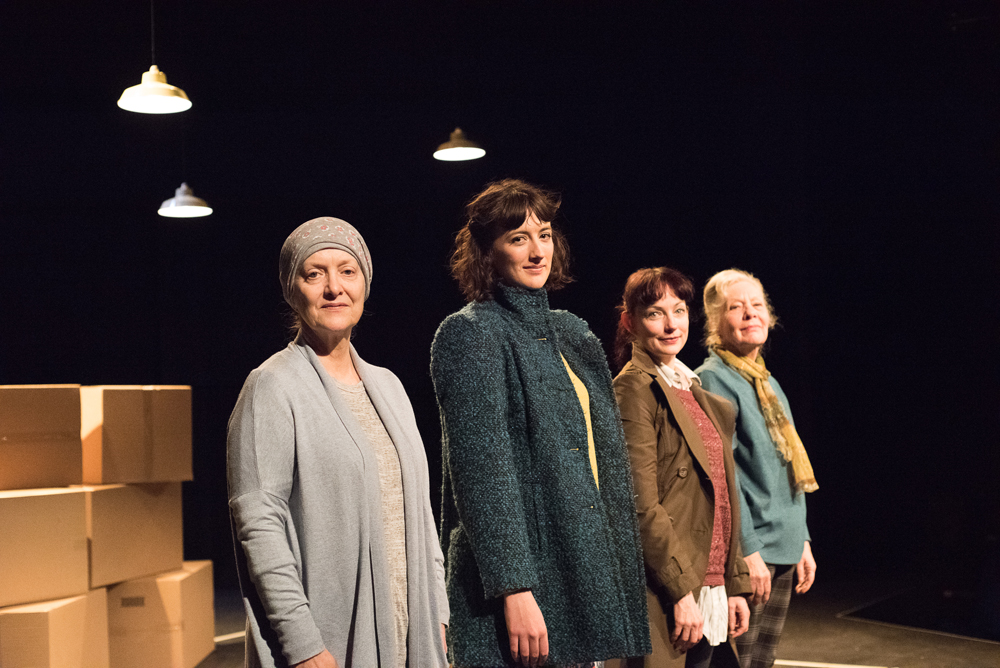 Three generations of women is an outstanding play that highlights the struggles and challenges of women from each generation in their discovery of self, sex and feeling free in their sexuality, life roles and opportunities. Stories of the outlooks of women through their life scripts and the female/mother/daughter role expectations thrust upon them. Told in stories from tricking the doctor to prescribe the contraceptive pill, armed with the cover up of a 40p Woolworths false wedding ring, to a wife's priority life role being to reproduce in fear her husband may be seen as inadequate and therefore gossiped about by the village tittle tattlers.
Dancing and friendship a common theme throughout the show tonight highlighted the differences of each generation from days at the dancehalls to Justin Bieber.
Shame and pregnancy was a dominant topic throughout this play, with stories of wives of soldiers in the second world war having affairs then their husbands returning home after the war to find children that wasn't theirs (but nobody said a word), to the horrors of the 1950s mother and baby homes when unmarried girls got caught in the 'family way'. Representing the message "A marriage certificate was the line between good or bad".
Also addressing modern day motherhood and the worries for the next generation influenced by media pressures and the impact of the internet and social media.
Tonight's performance really did pack a punch as it gave rise to an emotional explosion, and I have to admit to shedding many tears throughout the show as the issues of motherhood, dying, family secrets and shame where portrayed emotively by the cast. This play is truly spectacular and I can't recommend it enough, it certainly made me want to phone my best friend to commend her for being so wonderful and to ring my mum to thank her for everything!
There is a baby friendly performance is at 2pm on Saturday 26th March, encouraging mums to enjoy a grown up theatre performance without the worry of upsetting the audience. Followed at 7pm by the final performance at the Lowry.
Reviewer: Victoria Wilmot
Reviewed: 25th March 2016