Ray Mears is a 52 years old English woodsman, instructor, businessman, and author and TV presenter. However until this evening I had never heard of Ray Mears so found myself a little unsure of what to expect. Having read the opener "Have you ever wondered how you might cope faced by seemingly impossible odds? In this heart-stirring presentation be prepared to be shocked, amazed and inspired to succeed by the stories of our fellow human beings and the incredible circumstances they have overcome", I was eager to see this performance.
Arriving at the auditorium the first thing that struck me was that the audience was predominately made up my men with the occasional female companion, an unfamiliar sight at the Lowry theatre.
Ray Mears opened the show with a screen of emotive words and dramatic music, informing the audience he now teaches many travellers how to stay safe wen in wild places.
Through carefully selected stories Ray explored what makes a survivor. Four main stories were discussed that highlighted the profound strength and determination of the human spirit. The first section ran for 120 minutes followed by the second that ran for 55 minutes, a long time by any standards for one man to keep the attention of a packed auditorium. However Ray's performance was spectacular and captivated the audience with his amazing story telling abilities.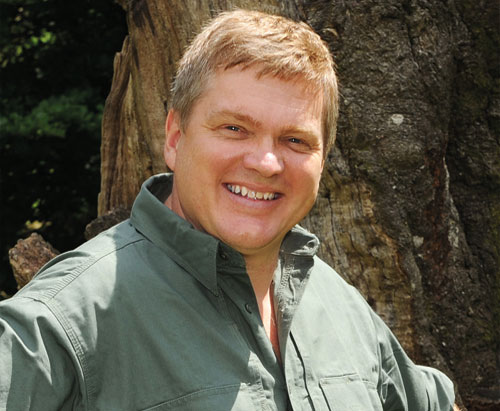 First Ray told the tale of an ill-fated expedition in North America in 1903. Leonidas Hubbard assistant editor of the outdoor magazine of its time "Outing" set out to explore the unexplored land of Labrador. Convincing the young lawyer he had met on a fishing trip Dillan Wallis from New York City to accompany him. The trip was funded by the senior editor of the magazine and a native guide was sort after. George Ellison was recruited. From the start of the expedition it was clear the planning was floored as no return route was set, and the equipment list lacked vital equipment.
Ill equipped and ill-informed the three men set off to explore the unchartered land of Labrador. In unbearable heat and overwhelmed by insects the three explorers make error after error in their judgements and planning. Naming lakes along their way, as 'Lake Hope' then 'Lake Disappointment' gave an insight to the moral of the men. September brought a change in the weather and in freezing temperature the men try and return home malnourished and clothes in tatters their return is difficult. By 15th October Hubbard can go no further and stays put whilst the other two find help. Ellis and Wallis eventually survive whilst Hubbard perishes 18th October with the last entry in his journal stating "death by starvation wouldn't be so bad". In 1905 the magazine outing published his journal and Mena his wife better equipped and planned did the same expedition successfully in honour of her husband.
Ray Mears tales of survival and endurance promoted "Plan for the worst but hope for the best".
A fascinating fact from Ray was that the human body can be deprived for 3 minutes of oxygen, 3 days without water and 3 days without food, before death.
The Second story told was of the 10 man crew of the bomber plane Little Eva during World War II that crashed in the Australian outback. How all crew members perished over a period of time bar 1 who's overwhelming motivation to stay alive was his determination to one day: 'drive a car and ask a girl out to a dance'. 141 days Gaston survives in the Australian outback and was eventually rescued.
The third and final story of the first half story of Jim Bradley 1911-2003 a British soldier captured by the Japanese and forced to work on the Burma railway as a prisoner of war. His stories of torture and survival, escape and recapture was gripping again highlighting the survival instincts and endurance of human beings.
Following the interval Mears came back on stage and answered a few of the questions left by audience members during the interval. Briefly he then went on to explain some fascinating and very useful facts about survival and recommended outdoor equipment.
The shows final story was of a brave woman Violette (Bushall) Szabo 26/06/1921- January 1945 a young widow of a French soldier. Violette was recruited to be a spy and an undercover agent for the Special Operations Executive(SOE) acting as a courier for the French resistance. Violette endured many stories of torture in prisoner of war camps and eventual execution. Ray once again told of the endurance of the human body and Violette's ability to help others despite her desperate situation.
This captivating and inspiring presentation is well worth seeing. The stores are humbling and raw and despite the audience at the Lowry being predominately men it would appeal to both genders, as I as a complete novice as to who Ray Mears was loved this gritty real life story performance.
Ray Mears is touring for the rest of March and until the 4th April in venues across the country, full details can be found at: www.raymears.com
Reviewer: Victoria Wilmot
Reviewed: 13th March 2016