Kicking off West Yorkshire Playhouse's season is Anders Lustgarten adaptation of The Damn United from David Peace's novel. The production brings to life Brian Clough's 44 day reign as manager at Leeds United. According to many fans, it was considered a dark chapter of the club's history, following Don Revie's legendary era.
Co-produced by Red Ladder Theatre Company and West Yorkshire Playhouse, Peace's 'An English Fairy Story' explores Clough's brief reign at Leeds United in 1974. The play switches back and forward chronologically to Clough's football management career from when he first managed Hartlepool United in 1965 to reliving Derby County's successes between 1967 and 1973.
Signe Beckmann's simple dim staging combining visuals and soundscapes, arranged by Isobel Waller-Bridge and Nina Dunn, aids the narration. It is no secret that Clough openly showed contempt to Leeds United particularly to Revie where he declared that he wouldn't shake his hand. It could suggest jealously was shown to Leeds United's successes even if arrogance obscures this.
Andrew Lancel is excellent as Brian Clough. Lancel energetically puts in the passion, desire and drive of this controversial character of British football. Clough was an outspoken individual even if one considers he was misunderstood for his drive and enthusiasm. Tony Bell portrays strongly as Peter Taylor, assistant manager, and Bell matches to Taylor's character from standing up to Clough to supporting him in buying suitable players.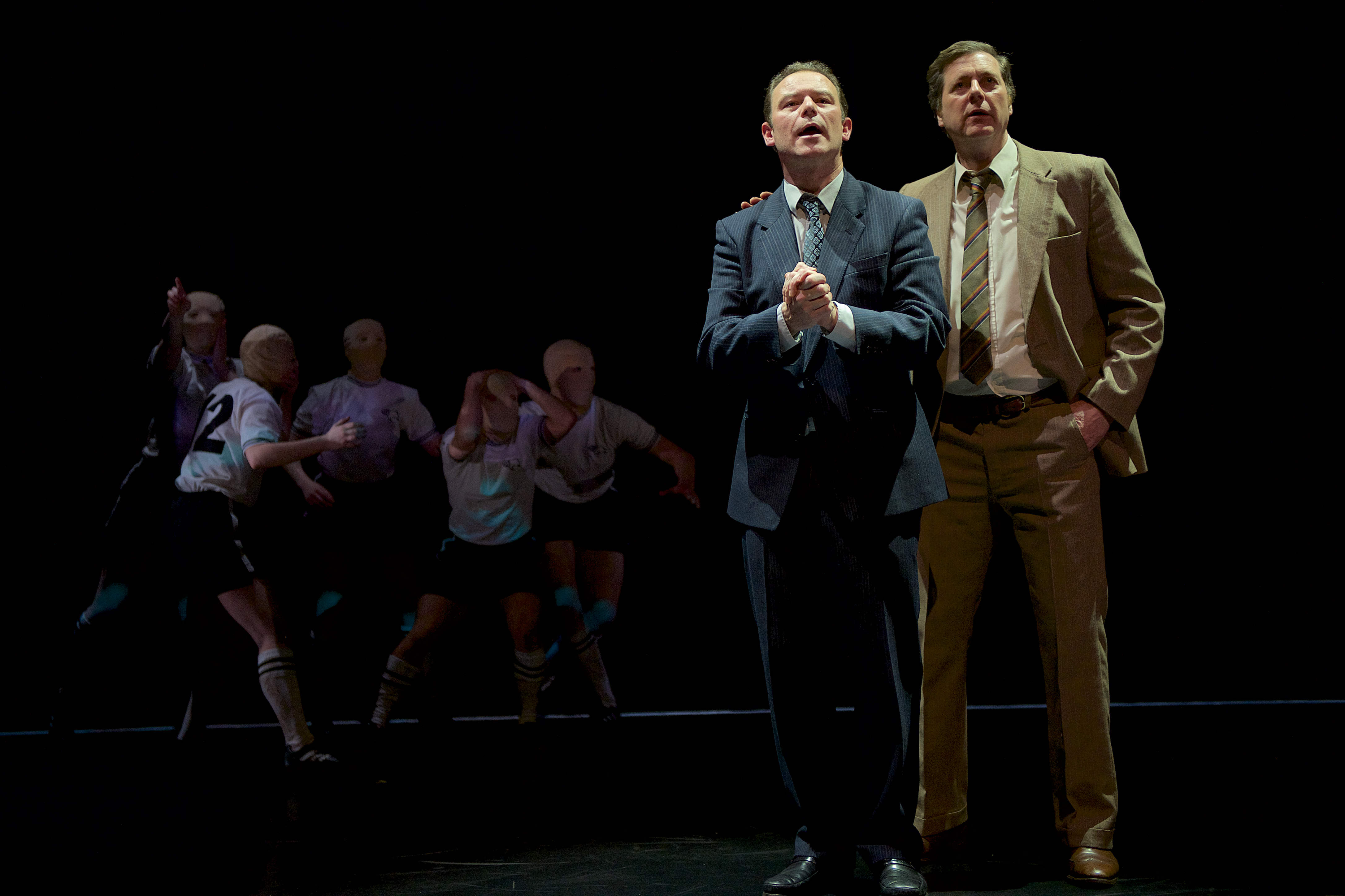 A lot was at stake for Clough at Leeds United particularly the legacy and reputation that Revie left behind. Everything was against him from previous loyalties and strong personalities between the board, players and fans. His unpopularity grew more especially his approach to rebuilding the team instead of relying on reputable players of the past season and before. He even questioned their motivation to win matches and infamously stated, "I want no epitaphs of profound history and all that type of thing. I contributed. I would hope they would say that, and I would hope somebody liked me."
The ensemble doubling up as dancers represents the football players. They synchronise in unison with the soundscapes and video footages of the matches and anticipated wins particularly during Clough's Derby County. The dark silhouetted presence of the ensemble who wears masks and interprets the story's poignancy, reputations, pessimism and the questioning of the 'beautiful game'. Tim Skelly's lighting is used effectively in illustrating this sombreness.
The Damned United is about the clash of ideologies between an ambitious manager and a club resting on its legacy and laurels. The clash demonstrates the positive and negative impact of football and its governance and this could apply to other sports too. The complexities of human nature, leadership and power are tested to its limits and its aftermath. There is no doubt that Clough and Leeds United had individually good intentions for succession then even if the outcome then was poignant. However they both triumphed in terms of future achievements since then.
It is certainly more than the 'beautiful game' and the 'working man's ballet'. The production opens questions about the politics of football with recent allegations of corruption involving FIFA; there is the intensive media interest about what happens off the pitch as much as on; fans' influences concerning the players and the clubs; and, of course, the reported extortionate rise in ticket prices.
Strong language is used to emphasise the true nature of this thrilling production. The Damned United throughout is ingenious and eye opening. A must see whether one is a football fan or not.
Reviewed on: 10th March 2016
Reviewed by: Dawn Smallwood
Photo: Malcolm Johnson