Growing up with a cricket loving father, the voices of Henry Blofeld and Peter Baxter (amongst others) became the soundtrack to summers in my household be it in the garden while my dad pottered in his shed or the weekends of a test match sat next to him with a cup of tea and digestive biscuits.
Blofeld and Baxter are masters of crickets with over 100 years of cricket broadcasting experience between them. Blofeld has been commentating on matches since 1963 while Baxter was the producer responsible for Test Match Special for 34 years after joining BBC 3 years after Blofeld. What they don't know about the sport surely isn't worth knowing.
Rogues on the Road is a snapshot of some of their exploits while travelling the world for cricket. From tours of South America to Ashes in Australia, the stories these bastions of the sport tell during the two hour show are a must for any cricketing fan.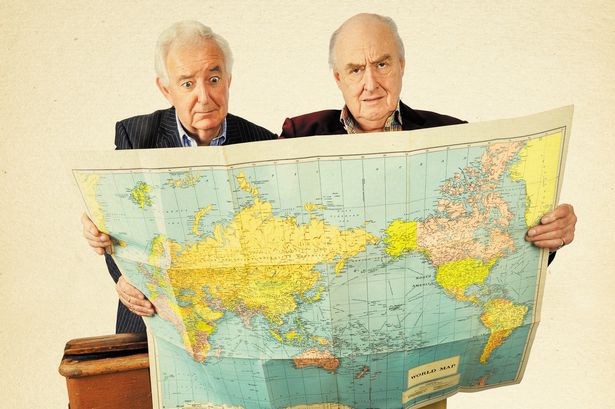 The stories are not limited to Blofeld and Baxter with tales of Aggers, Johnners and CMJ to name a few, also included in the global jaunt.
Blofeld and Baxter tell their tales in the same way they commentate on a match, with humour, passion and the occasional random observation. Blofeld and Baxter spoke of everything from inviting the wrong woman to Monaco by mistake to smuggling alcohol into prohibited countries to getting locked out of a hotel room with an unfortunate dignity rescuer to almost getting beaten up by Ian Botham! There was even some James Bond baddy talk with the Blofeld connection being explained and questions such as "Do pigeons eat worms?" being asked.
For cricket lovers this show, which has been extended due to its popularity, is an entertaining, enlightening and eye-opening evening with stories you will share. For non-cricket fans, there is a lot here you would miss but even if you don't know your googlies from your slips, many of the anecdotes are universally funny, some outrageous and some that our just belters.
Reviewer: Helen Kerr
Reviewed: 10th March 2016