If Gracie Fields were to describe this show she would say, in her down to earth Lancastrian tones, "It' a belting night out." If so she would be doing it less than justice, because that may be so, but it's also funny, clever, deftly acted, well written and performed in exactly the right setting.
Writer Philip Goulding, who also written for the New Vic and the Courtyard Theatre London has had several successes with plays on local themes, - the House at Nab End is probably the best known, but the story of "Our Gracie" is one of a world superstar born a few miles down the road from Oldham and where at least one of the oldest members of Tuesday night's audience still remembers her from her local tours. Others talked of her with the kind of adoration a twenty year old would reserve for Beyonce today.
Narrated by the 62 year old Gracie and set as though she had returned to perform with the Oldham Repertory Company of 1960 we experience her life through a series of musical episodes narrating the first 62 years of her life. Comically undercut by rep company banter and further lightened by audience participation it simply rockets along.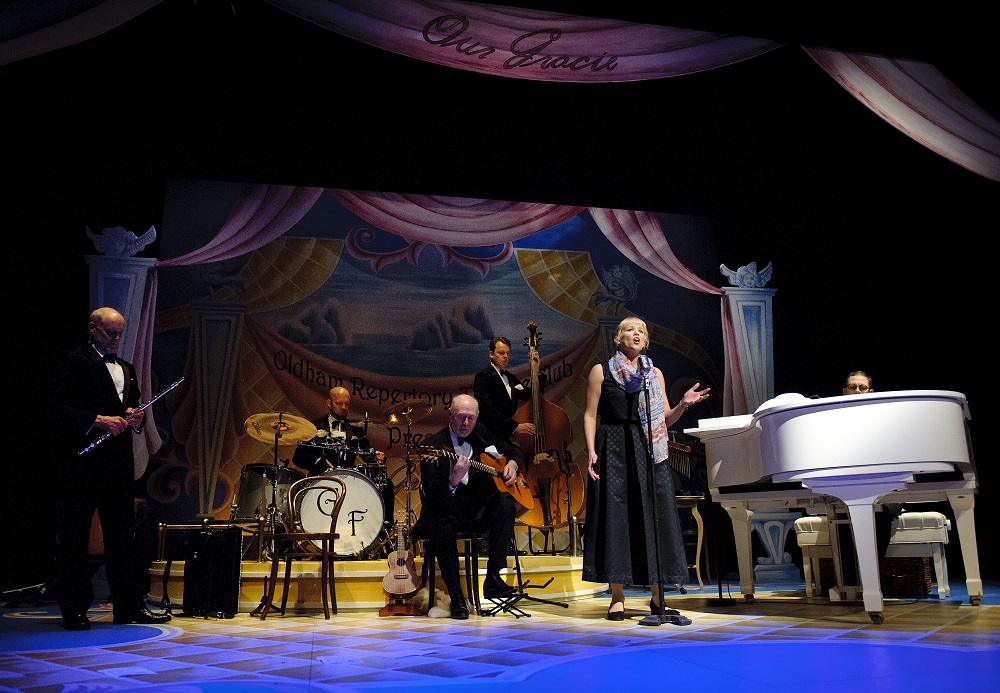 Musically the whole show is very strong indeed with each of member of the Rep playing a variety of instruments, Ben Stokes being particularly noticeable on the piano. Each episode in her life unfolds in appropriate musical style. There are revue numbers, Music Hall, song and dance, and duets, both comedy and romantic. After she has made her name in the West End with her first husband Archie Pitt's show, there are emotional rousers and torch songs, as she falls in love and moves to Capri. During the war, more comedy songs to cheer up the nation and again Comic and a lovely light Operatic solo.
Liz Carney, "Gracie's stage partner's voice is tuneful and strong, but without Sue Devaney's power and so her performance of an Edith Piaf song suffered only by comparison. Theirs was a great comedy partnership throughout the show; tapping, miming with Liz playing the straight woman friend and confidant to Our Gracie. In true rep style every other character had his showcase and Ben Stocks Liberace, Jonathan Markwood's Sir Laurence Olivier and Matthew Ganley's hilarious Hamlet soliloquy stood out.
The show had every thing for me and as a way of letting the post TV generation understand how important music hall was to the morale of the nation in hard times it should not only have a long run throughout the UK but should be on the curriculum of every media studies course…
Young and old came to see "Our Gracie" on Tuesday night and there were very few empty seats. It runs until 24th March at the Coliseum. Do go and see it – you can't possibly leave disappointed.
Reviewer: Elaine Bermitz
Reviewed: 8th March 2016