For those of you who have suffered the embarrassment of forgetting to turn off your mobile phones during a performance then this is definitely the show for you. From the start you are actively encouraged to keep your phone on and take pictures and videos and post on social media!
This high action breath-taking circus with a difference takes to the stage to a loud heavy pulsating tribal beat adding an excitement to the show and certainly gets the heart racing and continues for the duration of the circus.
First onto the stage are the magnificent Timbuktu Tumblers performing a fantastic display of acrobatic skills and balance and returning later with limbo….not just limbo but using burning poles too.
Next for thrills we were mesmerised by the talents of the Berserk dancers and Aerial ballet who appear several times on stage, smoothing the way for the next acts.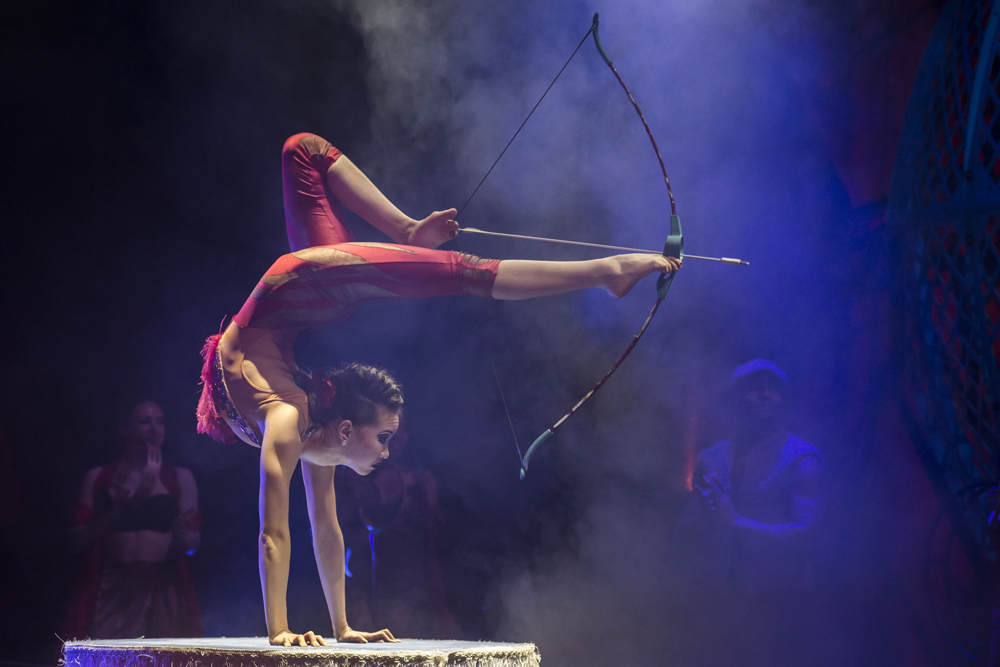 My favourite of the night, the Tropicana Troupe are a Cuban springboard team, sporting Mohican style head dress who present an act of incredible somersaults reaching dizzy heights! Bolas Argentinas perform an act of extraordinary skill using what I described as being like 'clackers,' remember them? I have discovered they are actually a weapon used by gauchos (Argentinian cowboys) made of weights on the ends of interconnected cords. This is where having the Cirque Berserk brochure came in handy! As the acts are not introduced the brochure came in very useful throughout. The lady of this act, Germaine Delbosa also returns with an amazing foot juggling act. Duoramona & Matti show incredible strength and balance in positions which defy belief and perform effortlessly.
No circus is complete without a clown and the Cirque Berserk is no exception. Breaking the tension of the other acts is Tweedy, a comical slapstick guy getting himself into a series of dilemmas and hilariously getting out of them, bringing laughter to the audience. When using comedy you sometimes forget at how skilful the act actually is.
For many the highlight of the show is the Globe of Terror, a death defying act on motorbikes and revealing a truly jaw dropping performance. These daredevil riders are crazy….or as the Cirque Berserk like to refer to their acts… 'Berserkus!'

I would not risk falling out with my husband if he was the knife and axe throwing Czech Toni! This husband and wife team display an act of bravery and thankfully accurate skill.
The whole of the evening is filled with high energy and unpredictable acts guaranteed to get the pulse racing! With many other artistes all adding to the show their own incredible talents from robots to balancing and aerial performances you will come away having had a fantastic 'Berserkus' time. Not to be missed!
Performing at the Palace Theatre Manchester until 9th March 2016
Reviewed on: 7th March 2016
Reviewed by: Lorna Weekes