Jules Verne's Around The World in 80 Days certainly offers more than Phileas Fogg living his life like clockwork. An uncharacteristic bet leads him to spontaneously circumnavigate the globe in 80 days by 'boats and trains but no aeroplanes'. He is a typical Englishman who is determined complete the journey as fast as possible only to face unforeseeable events and experience hilarious consequences on the journey.
The audience is invited to join this adventure and travel with Fogg and his faithful servant, Passepartout. The six person cast, doubling as musicians, narrate the story with live music, circus tricks and singing catchy musical numbers. They present this with humour, irony and wit. Interestingly there are some prophetic familiar references which are synonymous today such as when the railway network comes to a halt and Indian food conquering the world.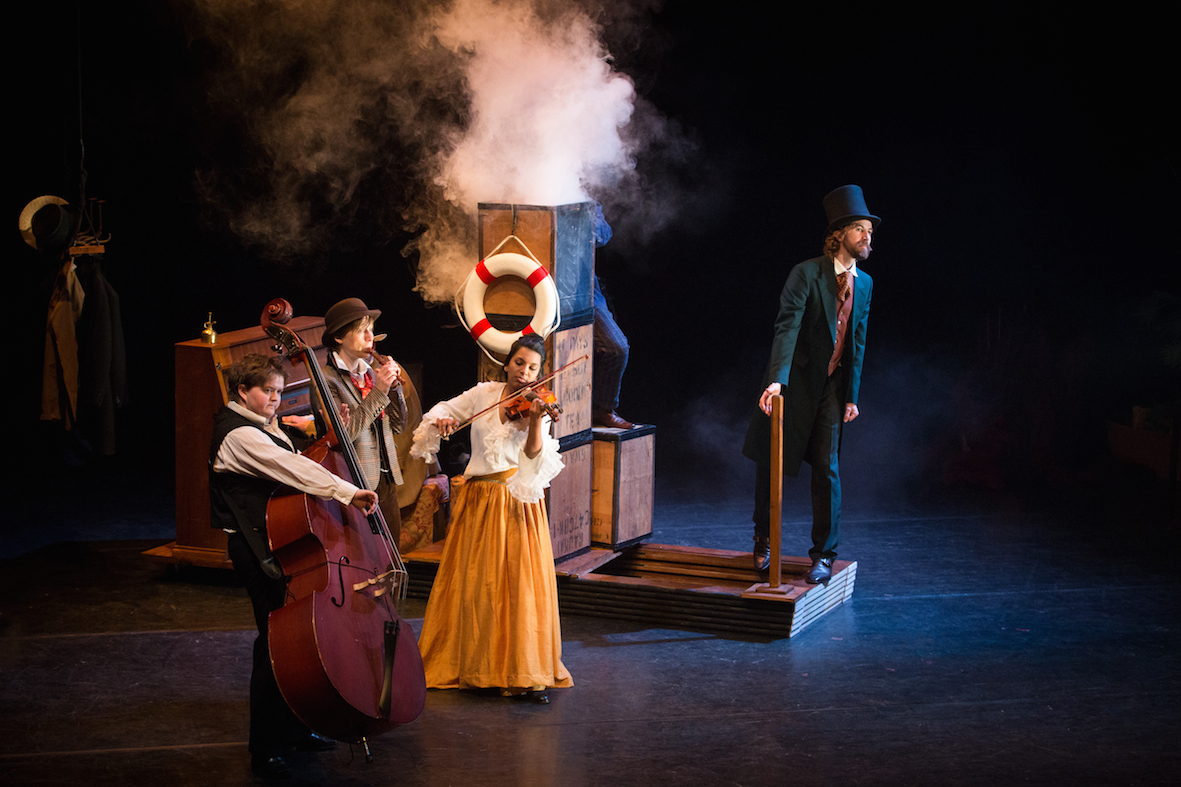 An engaging pantomime approach is applied throughout this production where the audience is directly and indirectly involved whether it is locating a missing character from the story or participating in a trick. The characters mingle with the audience in the auditorium when they navigate their way round the world; through the depths of an Indian jungle and later catch the San Francisco bound boat from Yokohoma which they almost missed. The props are used effectively on stage and above; particularly good is the use of a miniature hot air balloon and its ascension from the stage when they are crossing America.
This is certainly a lively energetic family show with something for everyone. Every member of the audience is engaged from the beginning to the end. Guaranteed laughter is imminent with a fast paced fiesta feel like adventure being told like no other. A credit to the presenter, New International Encounter and its director, Alex Byrne, and collaborator, Rich Rusk, for putting on an excellent adaptation of this celebrated novel.
If travel has changed Fogg he certainly acknowledged this from the comfort of his chair and cup of tea at the very end. He quoted that one can travel and become a different person. Certainly true today!
Reviewer: Dawn Smallwood
Reviewed: 15th February 2016