Filled with anticipation at what is billed as 'The Worlds Greatest Illusionists Live on Stage'' we took our seats ten minutes before the start and were treated to a backdrop of facts about magic and illusions from artists of days gone by. Until now I didn't know that the total of a pack of cards face value including the joker added up to 365, the same number days of the year! Not sure if that is magic or coincidence. Got my mind wondering about leap years but I guess you could include the second joker then!
Anyway on with the show…. Impossible presented by Jamie Hendry Productions & Gavin Kalin Productions consists of 6 magicians and illusionists, Magical Bones, Chris Cox, Jonathan Goodwin, Ben Hart, Josephine Lee and Lee Thompson, each bringing their own particular style to what is to become a fascinating evening's entertainment reminiscent at times of 'Old music Hall' but with a modern approach. Looking back there wasn't much that hasn't been seen before but strangely was compelling even knowing the outcome!
The opening scenes are of dungeons and torture and are accompanied by loud bangs and screams which the little boy in front of us found scary and promptly burst into tears, something that happened on 2 other occasions so parents be aware if you have small children, but the majority of the show is entirely suitable for all ages.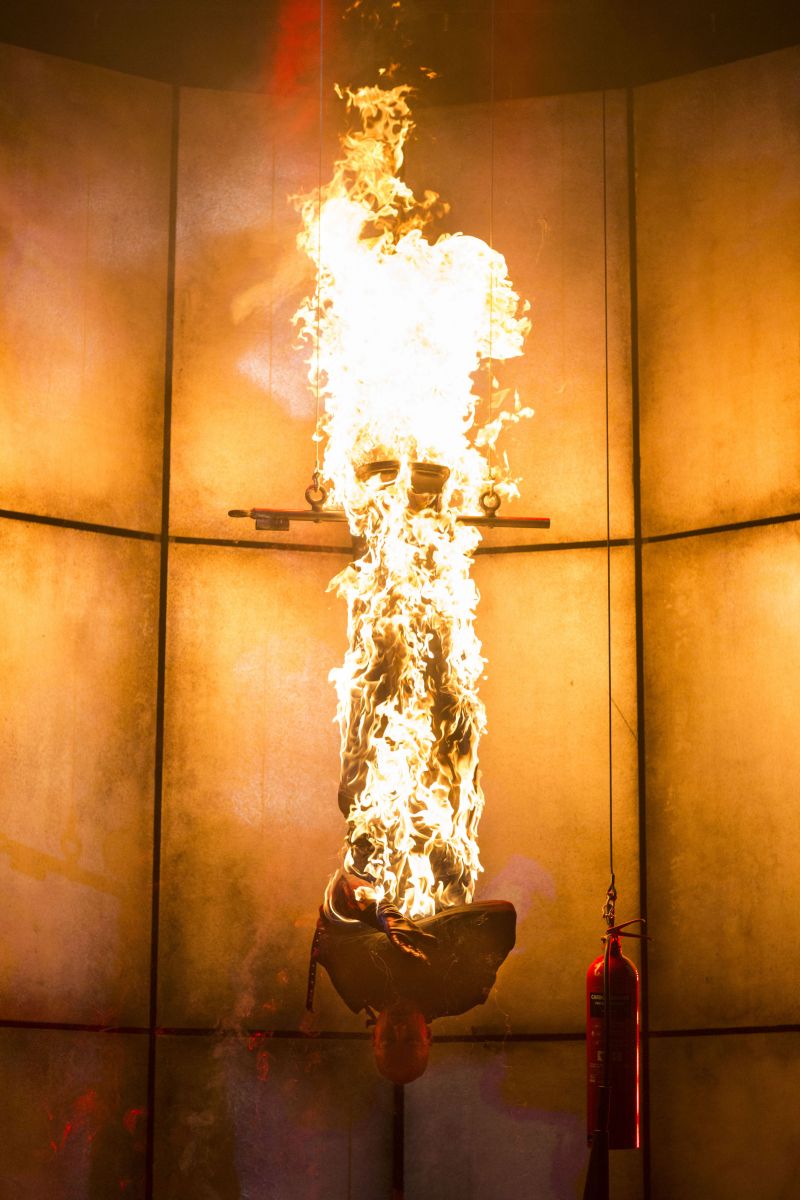 Josephine Lee is the lady of deception and illusion at the start and gives a mesmerising performance returning to the stage later in another disappearing lady act, vanishing from one side of a wheel and reappearing in the other, however I was actually disappointed as I did see her leaving the wheel. The artistry was there though and enjoyable.
Throughout we are given more details of how magic started and has progressed through the years. It is a fast moving show and full of audience participation who were a little slow to warm up but I think that was because simply we were afraid of missing something and were literally spellbound. That soon changed though and the ones chosen to assist were, although randomly selected by a variety of ways including a paper plane thrown into the audience, all willing to be involved. A deadpan student was a challenge for the mind reading Chris Cox who delivered a brilliantly funny and chirpy performance leaving you questioning 'how did he know that?' The quick quips between Cox and the student were hilarious and highly entertaining, something that made you wonder if he was part of the act after all, but how could he be when randomly selected?
Another unsuspecting member of the audience was treated to the sleight of hand of Lee Thompson who retrieved him of his mobile phone and wallet and though I knew this was going to happen and although I watched carefully I didn't manage to see him do it! Frustrating as I wanted to catch Thompson out but he was too polished for me to spot when he took them, even when he returned them and then revealed he had them in his possession again.
Magical Bones appeared on the stage to the sound of hip hop and his dance skills matched his incredible backflip and retrieval of a selected card chosen by a lady from the audience. Amazing us with more magic Bones left me wishing he had been given a longer performance time as he left me wanting to see more of what he has to offer as his style was different to what I have previously seen.
The personable Ben Hart performed with skills that were slick and accomplished and when he came down into the audience to perform at the side of someone it was shown on a screen above the stage, on the stage scenery and on two smaller monitors at the side of the theatre to enable everyone to see what was going on. This was a procedure carried out for many of the acts and without would have been impossible to follow the close up work. Having said that our seats were below the balcony and therefore we were unable to see the larger screen above the stage. The monitors were too distant for us too. The close up projected onto the scenery on the stage was distracting as the squared scenery divided the image and made it harder to fully see what was going on with the close up work. The spotlights obviously necessary to highlight the act tended to 'lighten' the images projected behind. I chose to splash out on the £1 hire of the good old theatre opera glasses to view close up instead.
Highlight of the show for me was the breathtakingly daredevil performance of escapologist Jonathan Goodwin. I wanted to watch but almost couldn't bear to, as he attempted to escape from a straitjacket whilst hung upside down and then set alight!! Please do not try this at home! Again I was left with bated breath when he used a crossbow and was blindfolded with a metal blindfold declared as impossible to see through by a man in the audience and proceeded to aim at a target held by a female assistant. Did she survive to perform again? Did Goodwin escape the burning strait jacket? With performances scheduled until Saturday the 13th February at the Empire and tour dates around the country you will have to book to find out. Our journey home was littered with questions of 'how did they do that? ………the answer is Impossible!
Reviewed: 10th February 2016
Reviewer: Lorna Weekes