German performer Natalie Reckert shows us what happens when you combine the art of Hand balancing, spoken word with the electronic sounds of Kraftwerk to create a solo performance filled with pulsing energy and passion for her art. Presenting her piece within the Aldridge Studio, a large, black minimalistic performance space, Reckert walks onto the stage to a welcoming applause from the audience and advises everyone to leave the space and to come back in the next sixty seconds. Confused and curious the audience does as she asked, exiting the space and waited in the auditorium. Counting down the seconds the audience's excitement began to reveal itself and once we all came back to see Reckert in the middle of the stage, standing on both her hands the audience knew they were for something special.
Miss Reckert's welcoming presence continues to evolve throughout the performance; Enticing the audience with her incredible and diverse skills.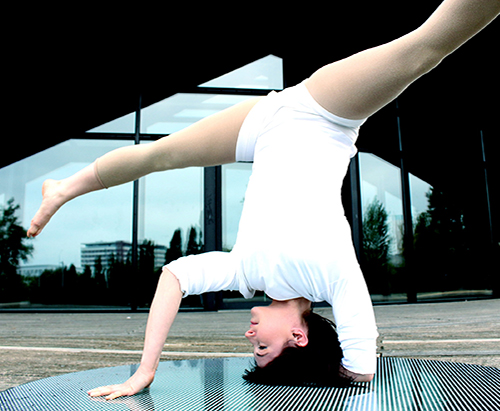 Her playful sense of wit is shared with the audience as she explains the pleasure and enjoyment she receives from this circus like style and what it means to her. Image gives Natalie the opportunity to express her creativity and demonstrate her technique to an intrigued audience of diverse backgrounds. Going as far as to laying eggs on stage and explaining that from building a 'pyramid of eggs' and finding the right balance can help develop control in a basic handstand as well as body endurance. She continues to develop these metaphors in the piece with Natalie spinning on top of handstand table with only one hand on the stand and her legs stretched out about above her as she explains how the human body is similar to that of an egg, both frail and can easily break but over time can develop and grow.
The robotic tones of Kraftwerk-inspired music propels the performance to another level. The beats echo through Natalie's body, almost controlling her movements she showcases her body's flexibility and interpretations. Controlling both the mood and speed of the performer. Pushing her to exceed expectations which she conquers.
This is a perfect example of contemporary circus and Reckert puts both her heart and soul into each movement and in the process turns the stage into her artistic playground. Though some movements felt repetitive, I was still taken in by Image and Reckert's determination and playful spirit.
Reviewer: Luke Richards
Reviewed: 3rd February 2016